PC Memory
TeamGroup Xtreem ARGB DDR4 Gaming Memory Review
Stunning mirror finish aesthetics with the latest ARGB technology.
Final Thoughts and Conclusion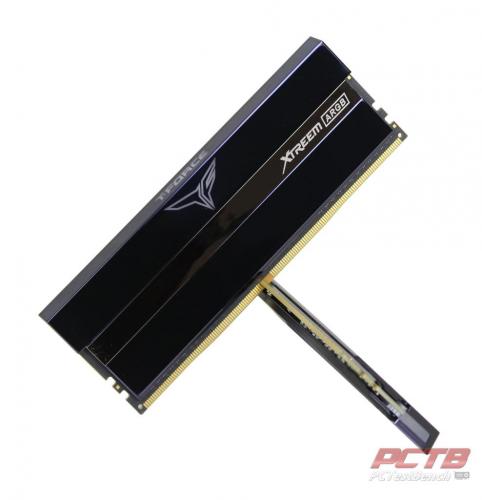 The moment I took the Xtreem ARGB from its packaging I was taken in by its beauty. From its smooth mirror finish out of the box to the fantastic RGB aesthetic when powered, they are truly the best looking RGB memory kit I have seen. Unlike most kits of the market, the Xtreem ARGB takes a more subtle approach that produces more of a diffused glow then the disco party RGB we are all too familiar with which I was really a fan of.
From a performance perspective, I found the Xtreem ARGB did great in some benchmarks but underperformed in others. Now our kit did have the slower timings of the two 3600MHz kits available from TeamGroup with timings of 18-22-22-42. If you were looking for a little more performance the 3600MHz kit with 14-15-15-35 timings may do better in some of the benchmarks where our kit didn't perform as expected. Though we were unable to get any more speed out of the Xtreem ARGB we did tighten the timings to 16-20-20-39. These new timings didn't affect the read/write/copy speeds but did lower its latency by 3ns to a snappy 46.5ns.
TeamGroup hit the aesthetics out of the park with the Xtreem ARGB and is easily the best-looking kit I have seen. With that said I do wish it had a little more performance under the hood to match its stunning looks. It performed slightly lower to what I would expect from a 3600MHz kit but not enough to have any noticeable impact in most workloads. Overall, I think the Xtreem ARGB is a great memory kit and would look amazing in any build.
Great Job, TeamGroup!
TeamGroup Xtreem ARGB DDR4 Gaming Memory Review
PRO's
Amazing Aestectics
Compatible With Other RGB Software
CON's
Not Much Headroom For Overclocking
Lagged Slightly Behind In A Few Benchmarks