Articles/Guides
CES 2021: Thermaltake's new Tower 100 Mini Chassis
The iconic Tower 900 shrinks
CES 2021: Thermaltake Presents the new Tower 100 Mini Chassis
Design with better space utilization, excellent expandability, and smart ventilation system for an 8K gaming PC build.
Walnut, California-January 8th, 2021-Thermaltake, the leading PC DIY premium brand for Case, Cooling, Gaming peripherals, and enthusiast memory solutions, announces the launch of the brand new mini-tower gaming PC case, the Tower 100. Based on the award-winning Tower 900, "Pocket-sized" down into a mini-ITX Form factor powerhouse, take on compact cooling and showcase the build with the perfect presentation.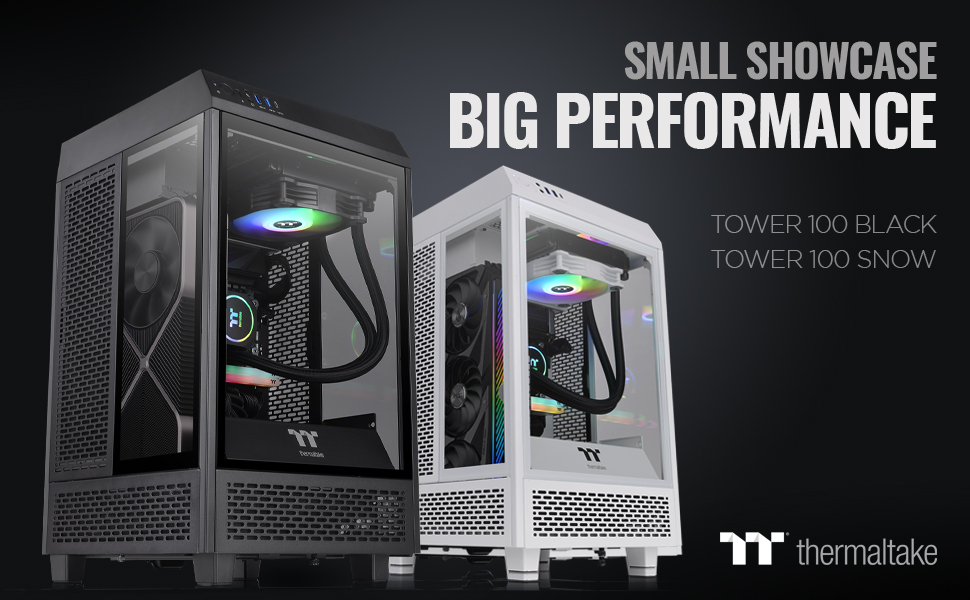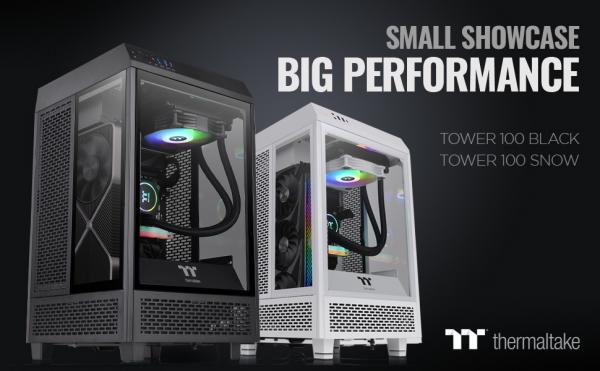 "There is a trend among hardcore gamers who are choosing smaller cases for their high-performance computer builds. It was a major challenge to transform a full tower case like Tower 900 into an ITX form-factor. Still, the chassis was well-configured for space utilization, expandability, and cooling while also providing an eye-catching appearance. The thermal control is a top priority with such a tiny chassis. Tower 100 is a new benchmark for real ITX high-end gaming systems!" said Kenny Lin, the CEO of Thermaltake.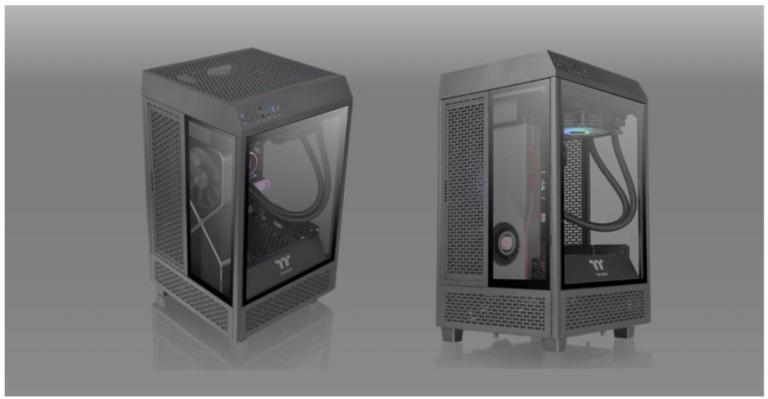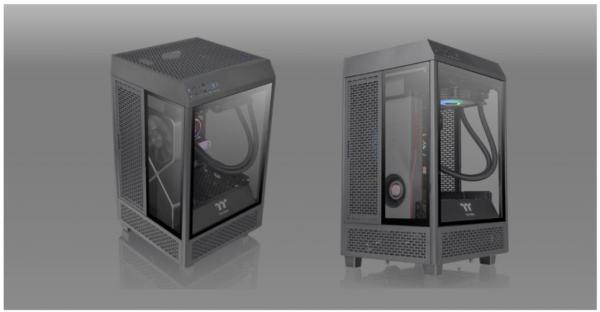 Featuring support for large graphic card solutions up to 330mm in length, the Tower 100 supports filtered ventilation from top to bottom. Combine the beauty of 4mm thick tempered glass with ventilated steel side panels provides a balance of show and flow. From the foundation, the Tower 100 is opened up for more airflow to the top panels easy push-button cover to provide easy access to connect up the components. Angled top-mounted I/O panel supporting USB 3.2 (Gen2) Type-C with USB 3.0 ports and HD audio for easy connectivity.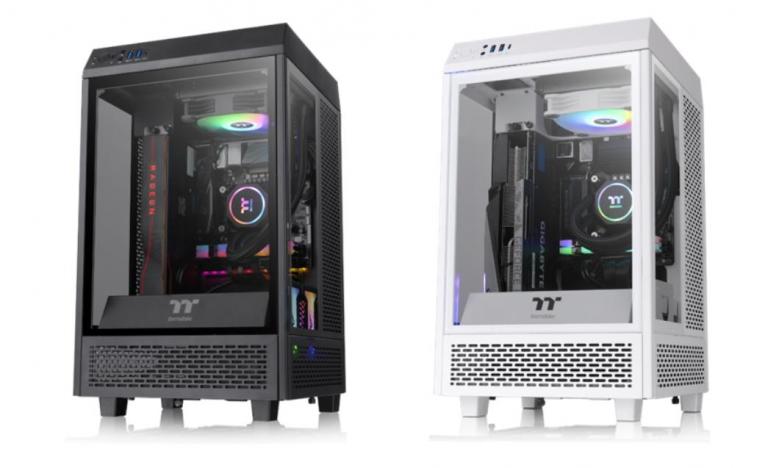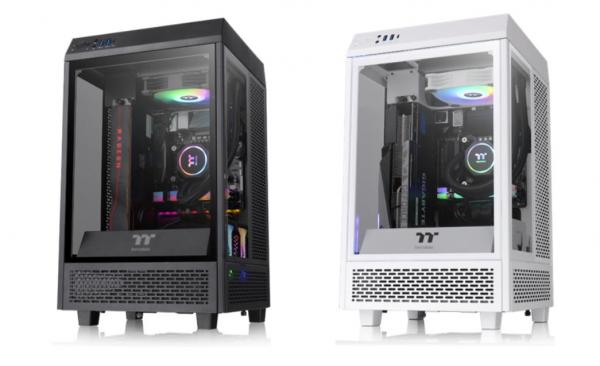 With airflow in mind, cable management is also covered throughout the Tower 100 with a custom cover plate. Modular cut out for larger graphic cards, supporting native "No Sag" vertical mounting, provides a convenient way to hide the GPU cables and easily connect to the power supply located at the back of the case. The large grommet provides access for the I/O and cable connections with a modular honeycomb designed backplate that doubles as storage mounting or more airflow thanks to the rear 120/140mm fan option located on the back panel. Straight forward, All-In-One cooling supports 120mm radiator solutions with an additional 120/140mm fan location above the PSU cover and CPU coolers up to 190mm in height.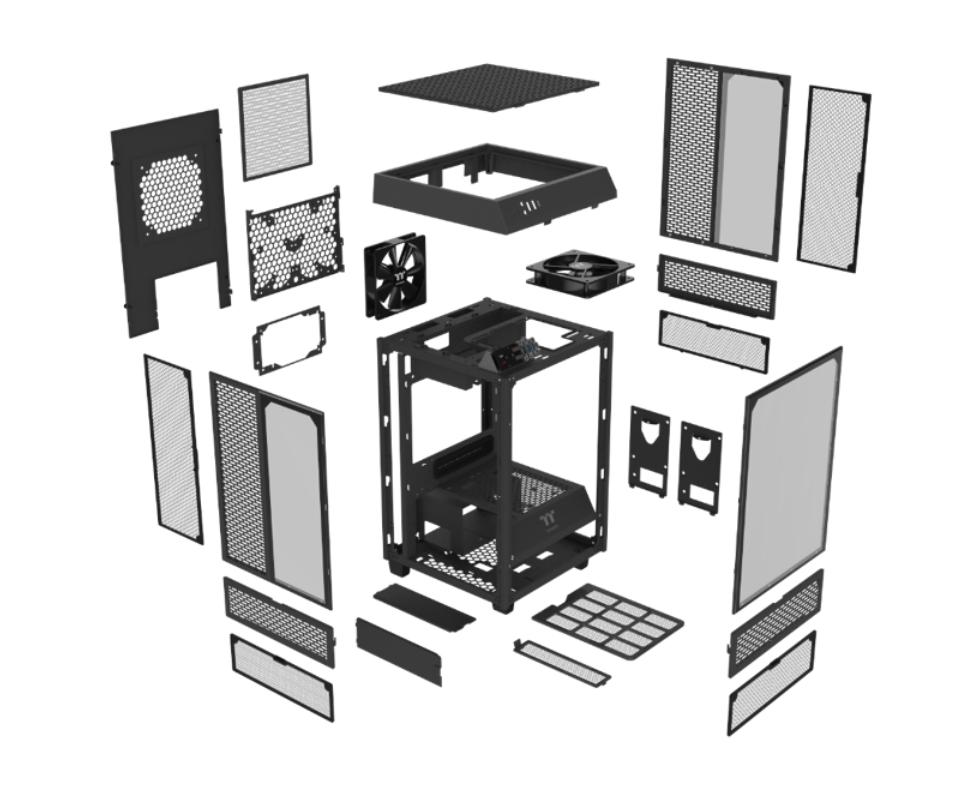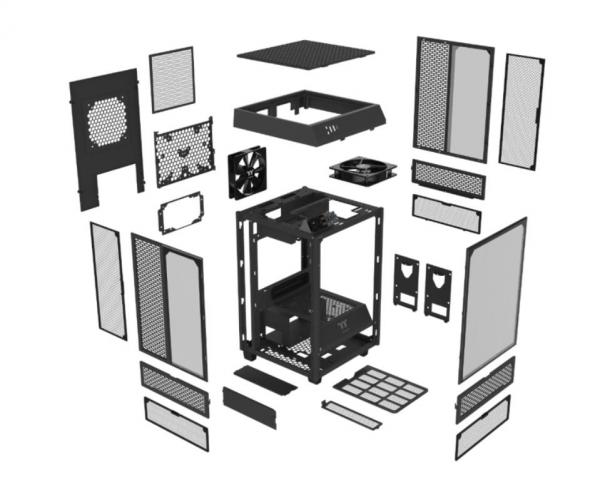 Providing a modular design, with the enthusiast in mind, easily remove panels for customization or proper maintenance. Mod on with the build to create one-of-a-kind designs and take advantage of easier installation by removing panels from the frame. Removable dust filters make it easy to clean or be removed completely for maximum airflow. Gain more storage with HDD/SSD mounting on the interior side and back panel to lock and load all favorite media and games.
Backed by a limited 3-year warranty, the Tower 100 will be available in the US and Canada in late January.
Thermaltake Tower 100 Spcification
Model
Tower 100
Tower 100 Snow
P/N
CA-1R3-00S1WN-00
CA-1R3-00S6WN-00
Case Type
Mini Tower
Chassis Dimension

(H*W*D)

462.8 x 266 x 266 mm

18.2 x 10.5 x 10.5 inch

Net Weight
6.1 kg / 13.45 lbs.
Side Panel
Tempered Glass x 3 (4mm thickness)
Color
Black
White
Material
SPCC Steel
Cooling System
Top(exhaust):
120 x 120 x 25 mm Turbo fan (1000rpm, 16 dBA) x 1
Rear(exhaust):
120 x 120 x 25 mm Turbo fan (1000rpm, 16 dBA) x 1
Drive Bays

 

 Accessible: 2 x 2.5"(with side bracket);

 Hidden: 2 x 3.5″ (without rear fan)

Expansion Slots
2
Motherboards
6.7″ x 6.7″ (Mini ITX)
I/O Port
USB 3.2 Gen 2 (Type-C) x 1, USB 3.0 x 2, HD Audio x 2
PSU
Standard PS2 PSU (optional)
Fan Support
Top:
1 x 120mm, 1 x 140mm
Rear:
1 x 120mm, 1 x 140mm
Top of the PSU Cover:
1 x 120mm, 1 x 140mm
Radiator Support
Top: 1 x 120mm
Clearance
CPU cooler height limitation: 190mm
VGA length limitation: 330mm
PSU length limitation: 180mm
CES 2021 and Thermaltake Expo
While CES 2021 moves to an all-digital experience, Thermaltake will launch their new products by hosting Thermaltake Expo on 1/11/2021 at 10 AM Pacific Standard Time on the YouTube channel. Tower 100, more new PC cases, power supplies, liquid cooling solutions, and gaming peripherals will be revealed with demonstrations.
Watch Thermaltake Expo at the link below:
https://www.youtube.com/user/Thermaltakereview
About "Thermaltake"
Thermaltake launched in 1999, first specializing in air cooling and successfully debuting the world's first turbine air cooler, the "Golden Orb". Since then, Thermaltake has taken the world by storm and become the leader in computer hardware and peripherals in the DIY PC market. Homing in on their 3 main lines ("Key 3"), Thermaltake delivers seamless cases, power supplies, and cooling products.
The "Key 3 Spirit" represents Thermaltake's promise toward its users; the promise to provide products that display "Quality Performance & Reliability." The "Key 3 Spirit" is the foundation for all Thermaltake products and is the reason for Thermaltake's continuous success worldwide. Learn more at http://www.thermaltake.com
Follow Thermaltake USA
Facebook: https://www.facebook.com/ThermaltakeNA/
Instagram: https://www.instagram.com/thermaltakeusa/
Twitter: https://twitter.com/Thermaltake
YouTube: https://www.youtube.com/c/ThermaltakeNorthAmerica
Website: https://www.thermaltakeusa.com/
LCGS (Liquid Cooling Gaming Systems): https://lcgs.thermaltakeusa.com/