Tech News
CES 2021: Thermaltake launches DIVIDER 300TG ATX Mid-Tower Chassis
The new DIVIDER series demonstrates the perfect mixture of a minimalist aesthetic, advanced mechanism, and thermal performance design
Walnut, California-January 11th, 2021-Thermaltake, the leading PC DIY premium brand for Case, Cooling, Gaming peripherals, and enthusiast memory solutions, announces the launch of the new Divider Series Chassis line up. The Divider 500TG, 300TG, 200TG, 100TG models, including standard and ARGB versions, available in black and white colors.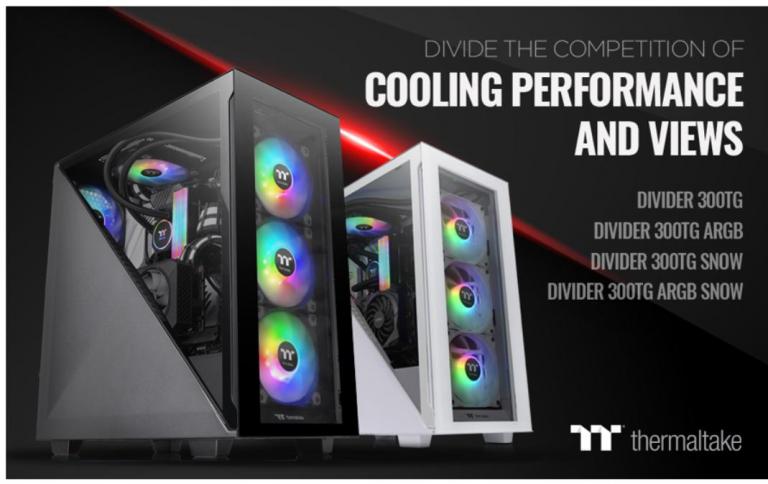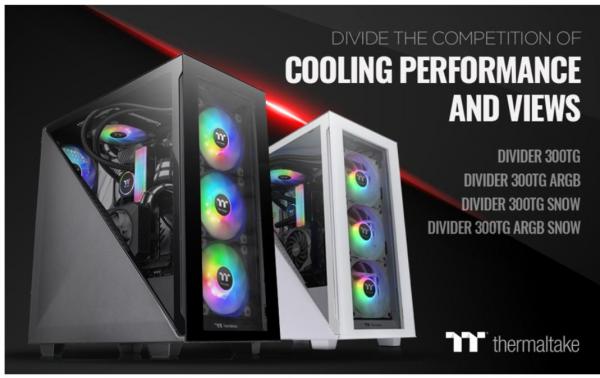 The Divider Series offers a range from M-ATX to ATX form factors, divided by 3mm tempered glass to provide a custom split difference for the next PC build. The Built-in triangular side panel includes side venting to improve airflow. Patented PCIE expansion slots offer secure options for vertical GPU mounting or direct to motherboard with a variety of GPU length support across the series.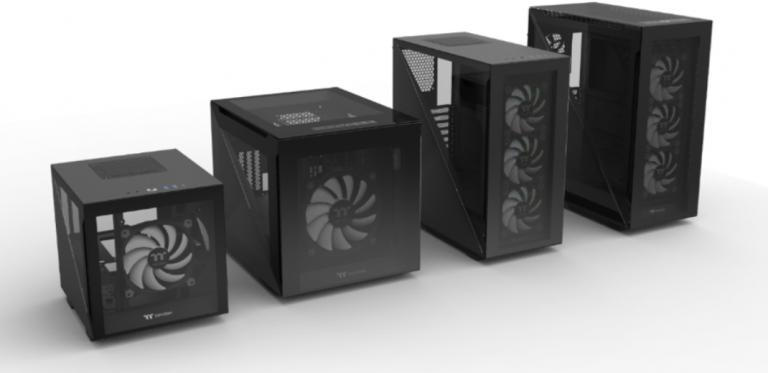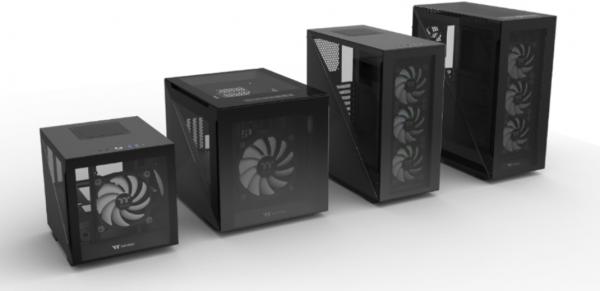 "A good PC case design should be more than just fascinating RGB illumination and overall appearance. It needs a perfect balance between practicality, aesthetic, and thermal dissipation," said Kenny Lin, the CEO of Thermaltake. "More powerful CPUs and GPUs are launching every day, making heat dissipation a significant concern for a gaming PC. The DIVIDER offers essentials to create the perfect ratio between material utility and the control of thermal conditions. It is also the next-gen gaming PC case for enthusiasts, modders, and gamers in sheer quality, and we're proud to present this whole new series at our Thermaltake Expo."


The DIVIDER 300TG mid-tower chassis supports ATX form factor motherboards and is available in black and white colors. Divided into both sides, combing 3mm tempered glass and ventilated steel side panels provide a balance of view while including ventilation for better cooling performance. Supporting up to 360mm GPU lengths with the radiator mounted in front, take advantage of side radiator mounting for even larger GPUs while keeping the fans in the front. Top-mounted I/O ports include USB 3.2 (Gen2) Type-C with USB 3.0 ports and HD audio for easy connectivity.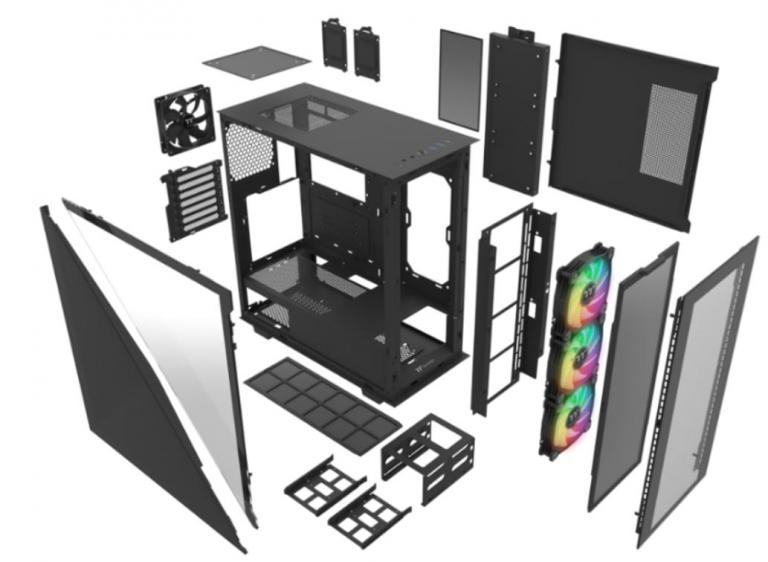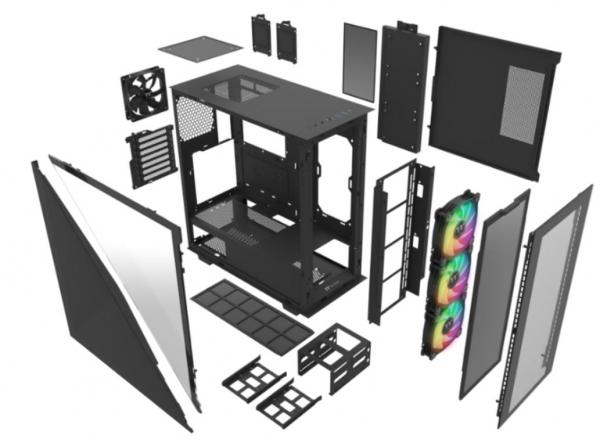 Add color to the next build with the DIVIDER 300TG ARGB, also available in black and white case colors, including (3) 120mm ARGB PWM fans preinstalled on the front. SYNC up with ASUS Aura, ASROCK Polychrome, BIOSTAR RGB, GIGABYTE RGB Fusion 2.0, and MSI Mystic Light through the included ARGB controller allowing users to add on even more ARGB products all controlled through one software.


The DIVIDER 300TG Series offers cooling customizations with both front and side radiator mounting options (280mm/360mm Front | 240mm Side) to provide multiple cooling fitments for both CPU and GPU AIO cooling options. Additional fan options on the top and back of the case offer more cooling and RGB. Filters included around the case help prevent dust and easy to remove for cleaning. Go vertical with Patented PCIE expansion slots to rotate the GPU vertically or direct to the motherboard, all built into the case.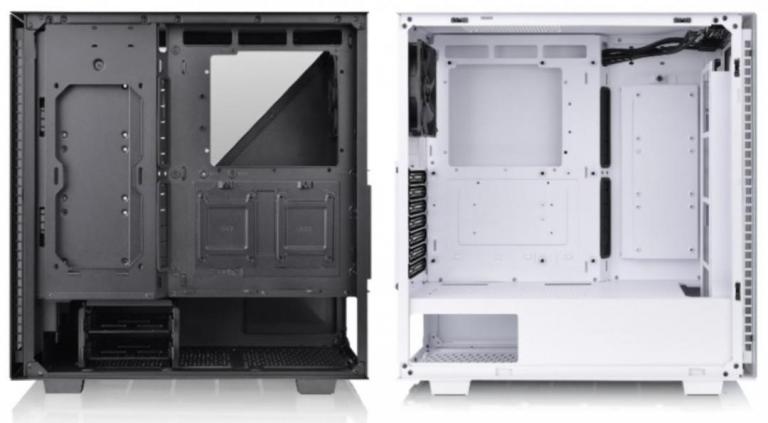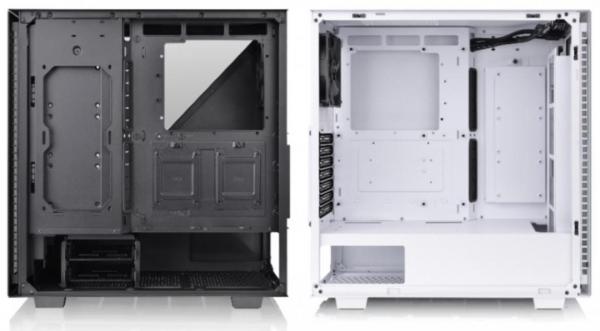 Built-in full-length PSU cover allows users to hide the mess and let the case look its best. They offer a window view to the PSU, with multiple pass-through for the cables, radiator, HDD/SSD storage options, and ventilated top. Larger cable grommets give users better cable positions and more space. Modular side plate offers storage when not using a radiator with SSD mounting also included behind the motherboard.
The DIVIDER 300TG will be available from US retailers in February. More DIVIDER Series models will be available later this year.
MSRP:
DIVIDER 300TG ARGB: $ 109.99
DIVIDER 300TG ARGB SNOW: $ 114.99
DIVIDER 300TG: $ 79.99
DIVIDER 300TG SNOW: $ 84.99
CES 2021 and Thermaltake Expo
While CES 2021 moves to an all-digital experience, Thermaltake launched new products by hosting Thermaltake Expo on 1/11/2021 at 10 am Pacific Time on their YouTube channel. The DIVIDER series, new PC cases, power supplies, fans, liquid cooling solutions, and gaming peripherals will be revealed with live demonstrations.
Watch Thermaltake Expo at the link below:
https://www.youtube.com/user/Thermaltakereview
Enter Thermaltake Expo Giveaway at
About Thermaltake
Thermaltake launched in 1999, first specializing in air cooling and successfully debuting the world's first turbine air cooler, the "Golden Orb." Since then, Thermaltake has taken the world by storm and become the leader in computer hardware and peripherals in the DIY PC market. Homing in on their three main lines ("Key 3"), Thermaltake delivers seamless cases, power supplies, and cooling products.
The "Key 3 Spirit" represents Thermaltake's promise toward its users; the promise to provide products that display "Quality Performance & Reliability." The "Key 3 Spirit" is the foundation for all Thermaltake products and is the reason for Thermaltake's continuous success worldwide. Learn more at http://www.thermaltake.com
Follow Thermaltake USA
Facebook: https://www.facebook.com/ThermaltakeNA/
Instagram: https://www.instagram.com/thermaltakeusa/
Twitter: https://twitter.com/Thermaltake
YouTube: https://www.youtube.com/c/ThermaltakeNorthAmerica
Website: https://www.thermaltakeusa.com/
LCGS (Liquid Cooling Gaming Systems): https://lcgs.thermaltakeusa.com/