Displays
AOC CU34G2X 34″ Curved Ultra Wide Monitor Review
Immersive Gaming at its Finest
Testing and Benchmarks
Test System
Processor

Intel Core I7 9700K (Confidential Processor)

Motherboard
 Graphics Card

AORUS RTX 2080 Waterforce

Memory

Aorus RGB Memory 3200 MHz Cas 16

Storage

512 GB Crucial P1 NVM3 M.2 SSD

Power Supply

850 Watt EVGA SuperNova P2 80+ Platinum

Cooler

Custom Cooled
XSPC D5 pump
XSPC Photon 270 ml Reservoir
360 mm x 60 mm Radiator
3 Fractal Design Prisma Fans
3 EK Vardar Fans
EK Vector RGB Waterblock

Case
Games
Assassin's Creed Odyssey
Deus Ex: Mankind Divided
Far Cry New Dawn
Far Cry 5
Strange Brigade (DX12)
Strange Brigade (Vulcan)
Red Dead Redemption 2 (DX12)
Red Dead Redemption 2 (Vulcan)
Shadow of the Tomb Raider
Wolfenstein Young Blood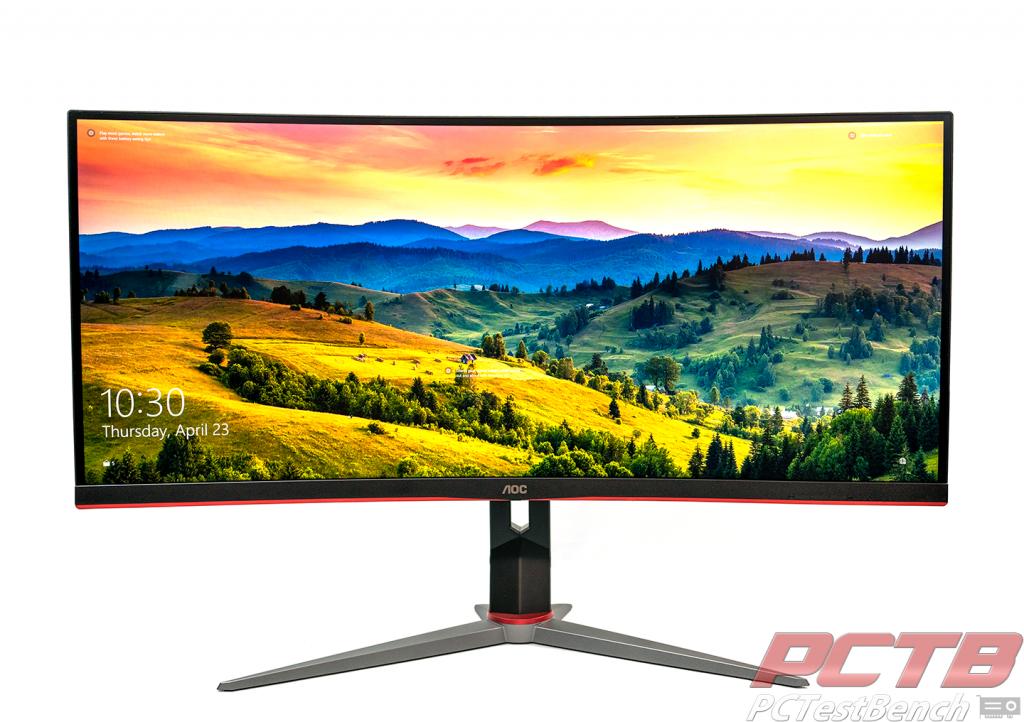 Testing a monitor is unlike testing say a graphics card. It isn't much different I'd do from my day to day uses as most of the experience is very subjective. However, there is a process for everything. So, the first step once the monitor was set up and ready was to calibrate the screen using the Spider5 calibration tool and the Spider5 Express software as that's what came with the actual tool. Once Spider 5 Express was installed, we placed the sensor on the screen, and it took about 4 or 5 minutes to calibrate as the screen changed to several different colors.
Once the CU34G2X from AOC was calibrated, it was time to get to the real-world testing. Now, I've been using the CU34G2X for about a month and a half. I previously had a 34″ ultra-wide that I sent an umbrella stand through. When it came time to replace it, I ended up with a 32″ 144 Hz screen in its place. I have felt empty ever since. Until the CU34G2X hit my desk. Now, for gaming, an ultra-wide is a great option. However, the benefits of an ultra-wide go far beyond just gaming. Originally, I had a 3 27″ 1080p monitors and I used to game in surround. When I first started writing reviews, I opted for an ultra-wide simply so I could include 3440 x 1440 resolution in my gaming results.  Then, I started getting into editing in Photoshop and Premiere Pro. No, it wasn't Photoshop that made me fall in love with this monitor as I have a 10-Bit 4k monitor for editing pictures and the CU34G2X is only an 8-bit panel. It wasn't even gaming, but Premiere Pro. I forgot how great it is to have all that extra screen space dedicated to my timeline.
With a 1 ms response time and 144 Hz refresh rate, the CU34G2X was designed with gaming in mind. and it does an excellent job in-game. The 144 Hz refresh rate gives you buttery-smooth game play. But, depending on the game, there are random dips here and there. So, I enabled adaptive sync as well as the on-screen frame counter. Adaptive sync dynamically adjusts the refresh rate to match the refresh rate of the GPU. The CU34G23X is the first monitor I've ever tested that has adaptive sync. I have Freesync monitor sure, but I've never had a GPU that supports FreeSync. So, I had never really used adaptive sync before, until testing the CU34G2X.  I was so impressed with how well adaptive sync works. It kept even RDR2 running at 144 Hz and it looked amazing. We decided to add in some gaming benchmarks for the RTX 2080 Waterforce in amazing 3440 x 1440 resolution, at 144 Hz and adaptive sync off.
All games were tested at their highest preset. in 3440 x 1440 resolution. The system we used consisted of an i7-9700k, AORUS RTX 2080 Waterforce, and 16 GB of AORUS RGB memory running at 3600 MHz. The two best performing games were Strange Brigade in Vulcan and Wolfenstein Young Blood. Strange Brigade in Vulcan averaged 104 frames per second on the RTX 2080 Waterforce in 3440 x 1440 resolution. Wolfenstein Young Blood was second with an average of 102 frames per second. Strange Brigade in DX12 was next with an average of 88 frames per second. Far Cry New Dawn and Far Cry 5 were both close in averages. Far Cry New Dawn averaged 76 frames per second and Far Cry 5 averaged 74. Shadow of the Tomb Raider was next on our list with an average of 57 frames per second followed by Deus Ex with an average of 51 frames per second. Red Dead Redemption 2 in Vulcan averaged 49 frames per second. In DX12, Red Dead Redemption 2 tied with Assassin's Creed Odyssey with an average of 46 Frames Per Second. Now with all that being said, enabling adaptive sync the built-in frame counter was always at 144 Hz in any game I played. Except for one. My absolute favorite experience with the CU34G2X from AOC had to be playing modded Skyrim in 3440 x 1440 resolution. Although the game doesn't support a 21:9 aspect ratio, it can be tweaked in the INI files of the game to support 3440 x 1440 resolution. and it looks great. But this was the one game that the frame counter was locked at 100. Without adaptive sync, Skyrim usually stays locked at 60 frames per second, or at least won't go higher than 60 frames per second.