PC Memory
Lexar DDR4-2666 SODIMM Laptop Memory Review
The simple way to boost your computer's performance
System Configuration & Performance Testing
Testing Hardware:
ECS LIVA A320 mini-PC
AMD Athlon 3000G
Patriot VPR100 1TB
16GB (2x 8GB) Lexar Laptop Memory 2666MHz
Testing Software:
Microsoft Windows 10 Professional 2004
Thaiphoon Burner
CPU-Z
AIDA64 Extreme Edition
Passmark Performance Test 10
SiSoft Sandra
7-Zip
Super Pi Mod 1.5
CPU-Z is a freeware that gathers information on some of the main devices of your system:
Processor name and number, codename, process, package, cache levels.
Mainboard and chipset.
Memory type, size, timings, and module specifications (SPD).
Real-time measurement of each core's internal frequency, memory frequency.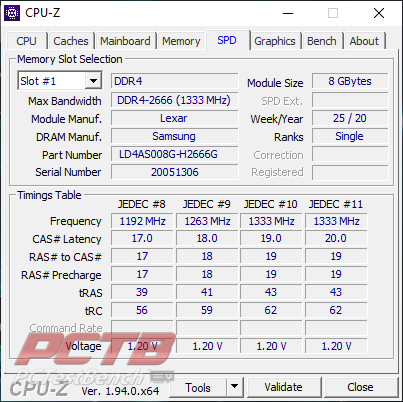 CPUz shows us we have a four JEDEC profiles and no XMP profile available, running at a maximum speed of 2666MHz effective with timings of 20-19-19-43 at 1T command rate. This is why Lexar is compatible with pretty much anything you can plug it in to with no worries about unsupported XMP profiles.
Thaiphoon Burner
Thaiphoon Burner is the number one solution on the software market to work with SPD firmware of DRAM modules of PC. Thaiphoon Burner provides powerful features for reading, modifying, updating, and reprogramming SPD firmware of SPD EEPROM devices. The program fully supports all popular JEDEC standards for Serial Presence Detects and third-party enhancements, such as NVIDIA EPP and Intel XMP. Comparing to other software Thaiphoon Burner creates the most completed reports for any of the following SDRAM types of DIMM modules: PC SDRAM, DDR SDRAM, DDR2 SDRAM, DDR3 SDRAM, DDR2 FB-DIMM, DDR4 SDRAM, LPDDR3, and LPDDR4. This is achieved due to the universal built-in SPD decoding engine.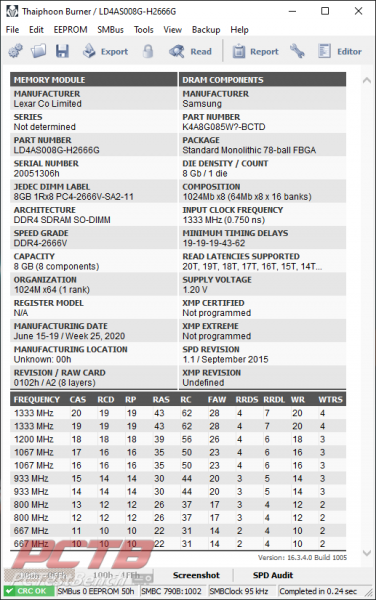 Thaiphoon Burner shows us that Lexar utilizes 8x 1GB Samsung B-die DRAM chips. Samsung's B-die memory is highly sought after by extreme overclockers for its ease of hitting very low latency settings and high clock speeds, often both at the same time.
Here is the full readout if you want to look deep into the specs.
AIDA64 Engineer Edition
"AIDA64 Engineer has a hardware detection engine unrivaled in its class. It provides detailed information about installed software and offers diagnostic functions and support for overclocking. As it is monitoring sensors in real-time, it can gather accurate voltage, temperature, and fan speed readings, while its diagnostic functions help detect and prevent hardware issues. It also offers a couple of benchmarks for measuring the performance of individual hardware components or the whole system. It is compatible with all 32-bit and 64-bit Windows editions, including Windows 10 and Windows Server 2016."
Bandwidth is a function of clock speed, so Lexar's Laptop Memory comes in right in the middle where we expect. All 3 kits run at a CAS latency of 18, so the speed pretty well shows scaling right in line with speeds.
Passmark Performance Test – Memory Mark – Threaded
"Fast, easy to use, PC speed testing, and benchmarking. PassMark Performance Test 10 allows you to objectively benchmark a PC using a variety of different speed tests and compare the results to other computers."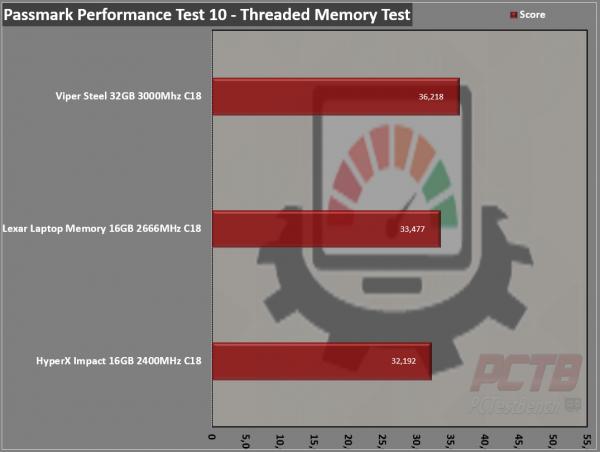 Passmark shows good scaling with speed here as Lexar falls right in line.
SiSoft Sandra
"SiSoftware Sandra provides a robust package of diagnostic tools for testing your system and teasing out its problems–or potential headaches."
SiSoft shows the Laptop Memory landing about where we expected on bandwidth but just a touch low on overall score on SiSoft's overall memory score.
7-Zip
The benchmark shows a rating in MIPS (million instructions per second). The rating value is calculated from the measured speed, and it is normalized with the results of the Intel Core 2 CPU with a multi-threading option switched off. So if you have modern CPU from Intel or AMD, rating values in single-thread mode must be close to real CPU frequency. There are two tests, compression with the LZMA method and decompression with the LZMA method. Once the total passes reach 50, the score is taken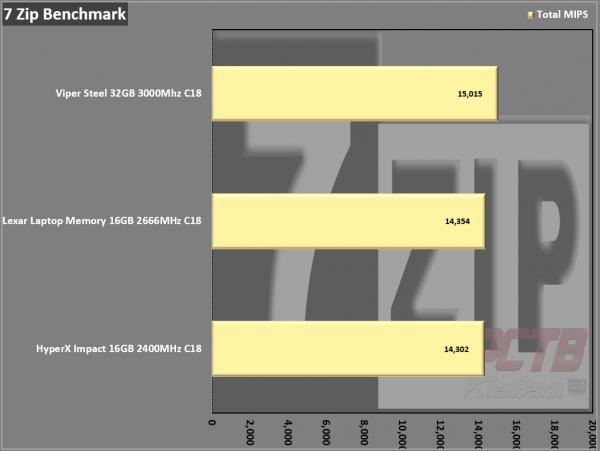 7-zip shows us performance right in line with what we expect from the speeds.
Super PI Modded 1.5
"In August 1995, the calculation of pi up to 4,294,960,000 decimal digits was succeeded by using a supercomputer at the University of Tokyo. The program was written by D.Takahashi in collaboration with Dr.Y.Kanada at the computer center. This record should be the current world record. (Details are shown in the windows help.) This record-breaking program was ported to personal computer environments such as Windows NT and Windows 95. In order to calculate 33.55 million digits, it takes within 3 days with a Pentium 90 MHz, 40 MB main memory, and 340 MB available storage."
For CPU Intensive applications, memory bandwidth matters quite a bit. We see the faster memory kit here take the lead, but interestingly, the faster sub-timings of the HyperX Impact kit give it a small advantage over Lexar's slightly faster overall speed.