Events and Trade Shows
CES
CES2021: Thermaltake Launches TOUGHAIR CPU Air Coolers
Next-gen heatsink tower features the hardcore fan for unparalleled cooling performance
CES2021: Thermaltake Launches High-performance TOUGHAIR CPU Air Cooler
Next-gen heatsink tower features the hardcore fan for unparalleled cooling performance
Available in topflow, single and dual fan configurations
Walnut, California- January 5th, 2021-Thermaltake, the leading PC component brand offering premium solutions for cooling, gaming peripherals, and enthusiast memory solutions, today is proud to present a new series of TOUGHAIR CPU Air Cooler. The TOUGHAIR CPU Air Cooler is equipped with an advanced Gen.2 hydraulic bearing, LCP fan blades, and anti-vibration mounting system to offer outstanding reliability. The TOUGHAIR CPU Air is available in three configurations, including horizontal tower (110), single (310), and dual fan (510) vertical tower designs supporting exceptional performance on the latest Intel and AMD series processors.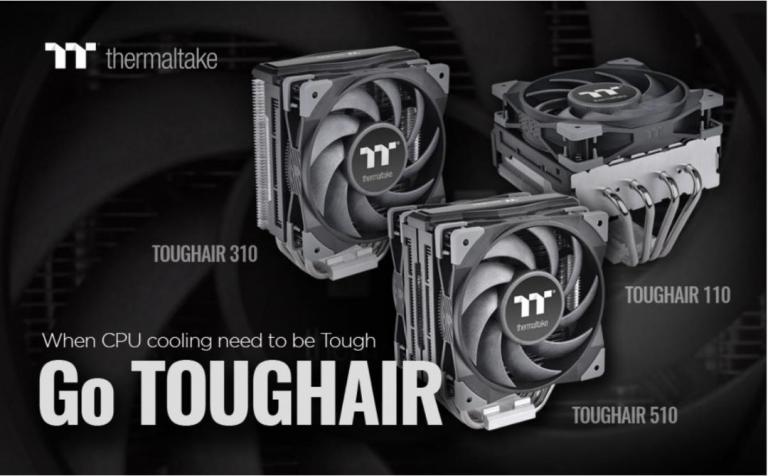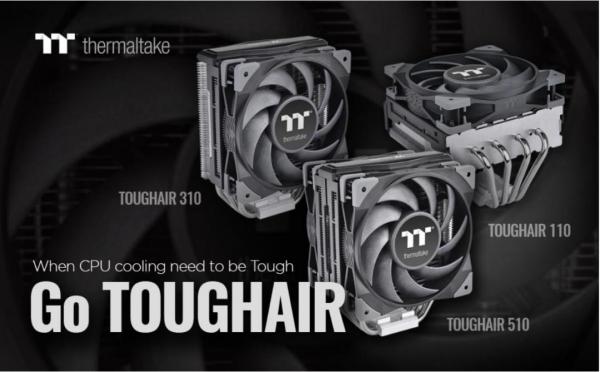 "We are tough when it comes to thermal performance insisting on design without compromise, and from that, the TOUGHAIR CPU Air Cooler was born," said Kenny Lin, the CEO of Thermaltake. "Air cooling is a simple and convenient way to cool your PC, and it is rare to see a new air cooler launch in the market. Thermaltake Engineering team has worked hard to design a new air cooler worthy of the TOUGH name and delivers what PC users are expecting."
 TOUGHAIR 110/310/510 CPU Air Cooler
The TOUGHAIR CPU Air Coolers come in three different models: 110, 310, and 510. The 110 is a horizontal tower design offering a low-profile design for smaller system builds. The 310 and 510 are vertical tower designs featuring single and dual fan configurations. Cooling these heatsink designs pushing 58.35 CFM @ 2,000 RPM. Each TOUGHFAN 12 offered a controllable fan speed between 500 RPM and 2,000 RPM and built using an advanced Gen.2 hydraulic bearing for long and silent operation.
TOUGHAIR CPU Air Coolers are built using four direct contacted 4 x Ø6 mm copper heat pipes with a maximum power handling of 180W TDP. Each cooler features an optimized fin structure for increased air intake and direct contact heat pipes. The universal socket design of the TOUGHAIR makes installation easy, and its retention system is fully compatible with all the latest Intel and AMD CPU sockets.  
Backed by a limited 2-year warranty, TOUGHAIR CPU Air Coolers will be available in the USA and Canada in Q1 2021.
MSRP:
TOUGHAIR 110 : $34.99
TOUGHAIR 310 : $39.99
TOUGHAIR 510 : $49.99
TOUGHAIR CPU Air Cooler Specification
Model

TOUGHAIR 110

TOUGHAIR 310

TOUGHAIR 510

P/N

CL-P073-AL12BL-A

CL-P074-AL12BL-A

CL-P075-AL12BL-A

Compatibility
(CPU Socket)

Intel LGA 1200/1156/1155/1151/1150
AMD AM4/FM2/FM1/AM3+/AM3/AM2+/AM2

Dimension

137.7 x 123.6 x 114.1 mm

123.6 x 71.7 x 159.5 mm

123.6 x 98.8 x 159.5 mm

Heatsink Material

Aluminum Fins
Copper Heatpipes

Heatpipe

Φ6mm x 4 pcs

Fan Dimension

120 x 120 x 25 mm

( L x W x H)

Fan Quantity

1 pc.

2 pcs.

Fan Speed

PWM 500 ~ 2000 RPM

Rated Voltage

12V

Start Voltage

6.0 V

Rated Current

0.48 A

Power Input

5.76 W

Air Flow.

58.35 CFM

Air Pressure.

2.41 mm-H2O

Acoustical Noise.

23.6 dBA

Life Time

40,000 hours

Pin Connect

2510 – 4Pin

Cooling Power

140 W

170 W

180 W
CES 2021 and Thermaltake Expo
While CES 2021 moves to an all-digital experience, Thermaltake will launch their new products by hosting Thermaltake Expo on 1/11/2021 at 10 am Pacific Time on the YouTube channel. TOUGHAIR CPU Air Cooler, new PC cases, power supplies, liquid cooling solutions, and gaming peripherals will be revealed with live demonstrations.    
Watch Thermaltake Expo at the link below:
https://www.youtube.com/user/Thermaltakereview
About Thermaltake
Thermaltake launched in 1999, first specializing in air cooling and successfully debuting the world's first turbine air cooler, the "Golden Orb". Since then, Thermaltake has taken the world by storm and become the leader in computer hardware and peripherals in the DIY PC market. Homing in on their 3 main lines ("Key 3"), Thermaltake delivers seamless cases, power supplies, and cooling products.
The "Key 3 Spirit" represents Thermaltake's promise toward its users; the promise to provide products that display "Quality Performance & Reliability." The "Key 3 Spirit" is the foundation for all Thermaltake products and is the reason for Thermaltake's continuous success worldwide. Learn more at http://www.thermaltake.com
Follow Thermaltake USA
Facebook: https://www.facebook.com/ThermaltakeNA
Instagram: https://www.instagram.com/thermaltakeusa
Twitter: https://twitter.com/Thermaltake
YouTube: https://www.youtube.com/c/ThermaltakeNorthAmerica
Website: https://www.thermaltakeusa.com
LCGS (Liquid Cooling Gaming Systems): https://lcgs.thermaltakeusa.com