Tech News
Introducing the new A​ZZA CAST Mid-Tower ATX PC Case
Cover On. Cover Off.
AZZA CAST Mid-Tower ATX PC Case with Removable Outer Shell and Independent Frame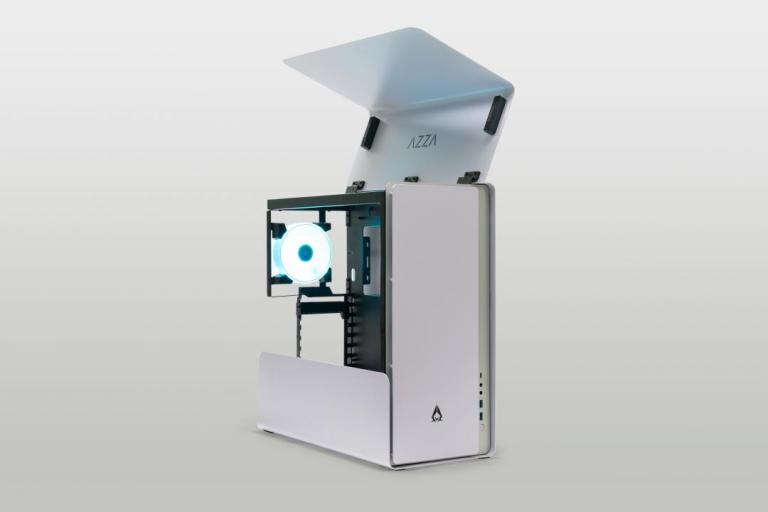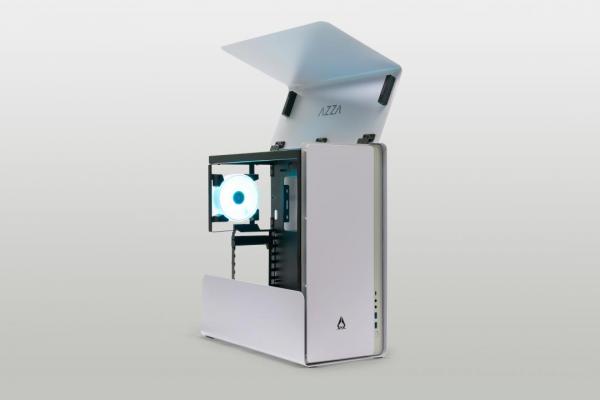 February 2nd, 2020, Taipei, Taiwan – AZZA, a leading brand of computer cases and accessories, introduces the CAST ATX PC case that re-imagines the design of a traditional mid-tower. The CAST has a removable outer shell that gives full access to the interior for effortless installation. When fully built, the unique wing design can be completely extended, requiring zero tools to access the interior, or flexed for better airflow. The CAST can even be flipped to a 90-degree orientation.
Cover On. Cover Off.
The CAST design consists of an independent frame and an outer shell with two hinged panels that provides full access to the hardware for maintenance and cleaning, and an easy to latch on/off front panel. When building the system, the entire shell can be easily removed to prevent accidental damages. This also means the shell can be worked on independently for customization purposes.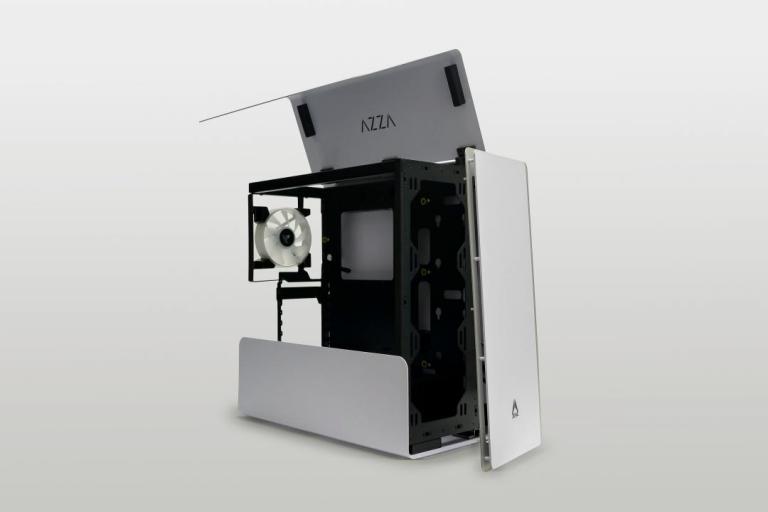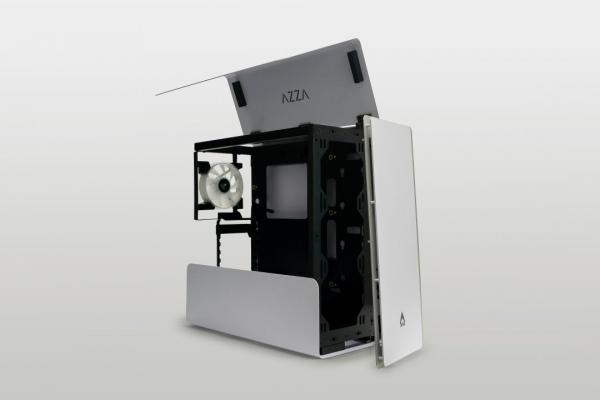 Unique Wing Design for Easy Access
The unique shell features hinged top and bottom panels, creating wings that wrap around the frame to form the left side panel. In a closed position, the CAST offers a minimalistic look with a cutout window emphasizing the graphics card. When open, it provides access to the inside and also gives an open-air option for improved internal airflow, which can be further enhanced with an included AZZA Hurricane III 120mm ARGB fan at the back, and optional cooling for 2x 240/ 3x 120mm fans or up to a 280/360 radiator at the front.
90-Degree Orientation
Another advantage to the hinged panel is for the case to be turned 90 degrees, standing with the rear panel facing down, giving the CAST an entirely new look to display the hardware installed inside. With enough room at the rear panel and an opening on the right-side panel to run the cables, it is easy to achieve a clean setup while breaking the traditional tower position.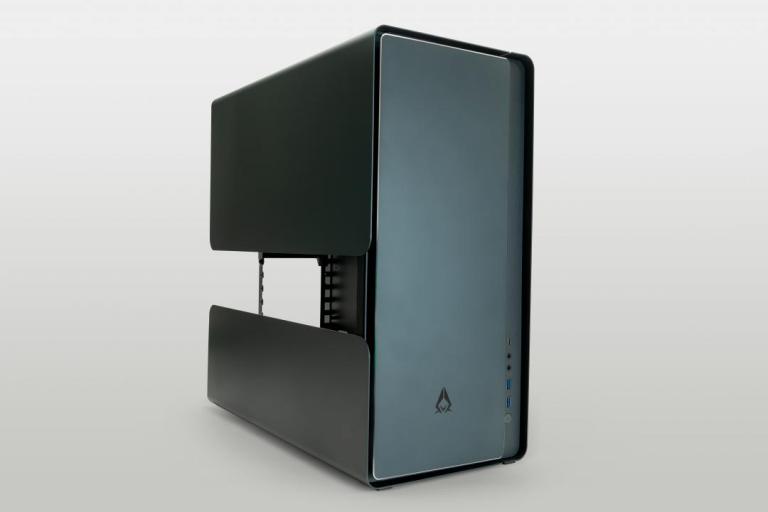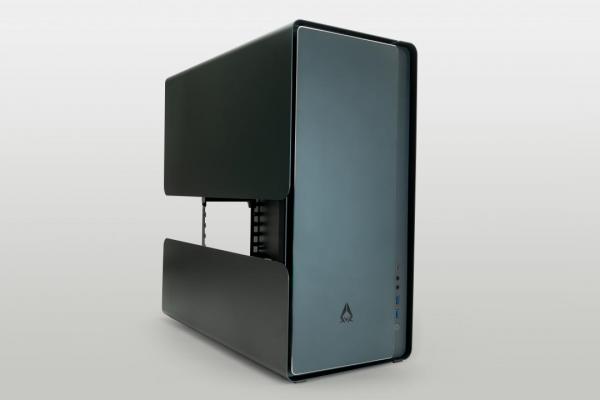 The MSRP of the CAST black or white is US$209.99. For more details, please visit: https://azza.gg/azza/products/unlimited/cast
Specifications
Name
CAST
Type
ATX Mid-Tower
Color
White
Black
Side Panels
Top: Aluminum Wing
Bottom: Aluminum Wing
Side: Steel Plate
Max CPU Cooler Height
Up to 165mm
Max GPU Length
Up to 360mm
Motherboard Compatibility
ATX
2.5" Drive Bays
Up to 3
3.5" Drive Bays
Up to 1
Expansion Slots
6 Horizontal + 3 Vertical
I/O Ports
Power button
HD Audio
USB 3.0 x2
USB-C x1
Case Dimension (H x W x D)
470mm x 220mm x 460mm
Weight
10.9kg / 24.03 lbs
System Fan support
3x 120mm or 2x 140mm fans in front
1x 120mm fan in the rear
Included Fan
1x 120mm AZZA Hurricane III ARGB Fan
Water Cooling
Support radiators up to 360mm/280mm in the front
Power Supply support
ATX power supply
The AZZA CAST is available on Amazon:
Black: https://www.amazon.com/AZZA-Mid-Tower-Black-CSAZ-808B-CAST/dp/B08P2DS23N
White: https://www.amazon.com/AZZA-Mid-Tower-Black-CSAZ-808B-CAST/dp/B08P25YPLH?th=1
About LINKWORLD
Linkworld Electronic was established in 1986 and has become a leading provider of computer cases, power supplies, and cooling accessories. Headquartered in Taiwan, the company has offices in the USA, Germany, Thailand, and Singapore. AZZA is the retail extension of the company that specializes in unique products for PC enthusiasts. To learn more about AZZA, please visit https://azza.gg/. You can also find AZZA on Facebook, Instagram, Twitter, and YouTube.