A Closer Look
The T-Create Classic arrives in a black & grey box with the capacity and speed written in the upper right corner. Our kit is the 32GB (2 x 16GB) at 3200MHz. Inside with the two memory modules is a warranty booklet as well as a T-Create case badge.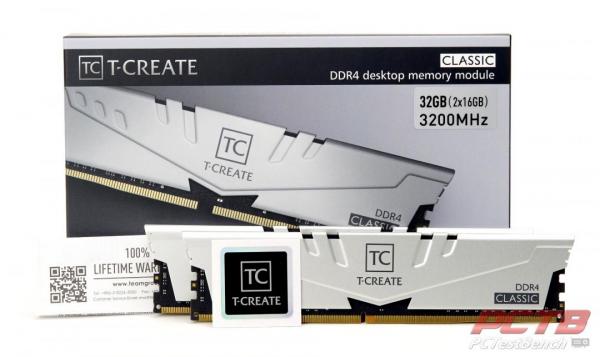 Taking a closer look at the memory modules themselves TeamGroup went for a very neutral aesthetic with a black PCB with a light silver heat spreader. On the front of the heatsink, there is the new T-Create branding in the center and the words "DDR4 Classic" in the right corner.

Flipping to the back of the module we find a warranty sticker that lists the Classic's specifications and serial number. Our sample is 16GB with a rated speed of 3200MHz and timings of CL22-22-22-52 running at 1.2 volts.

Taking a peek at the top of the heat spreader we find a little more branding with the word "T-CREATE" written in the center.