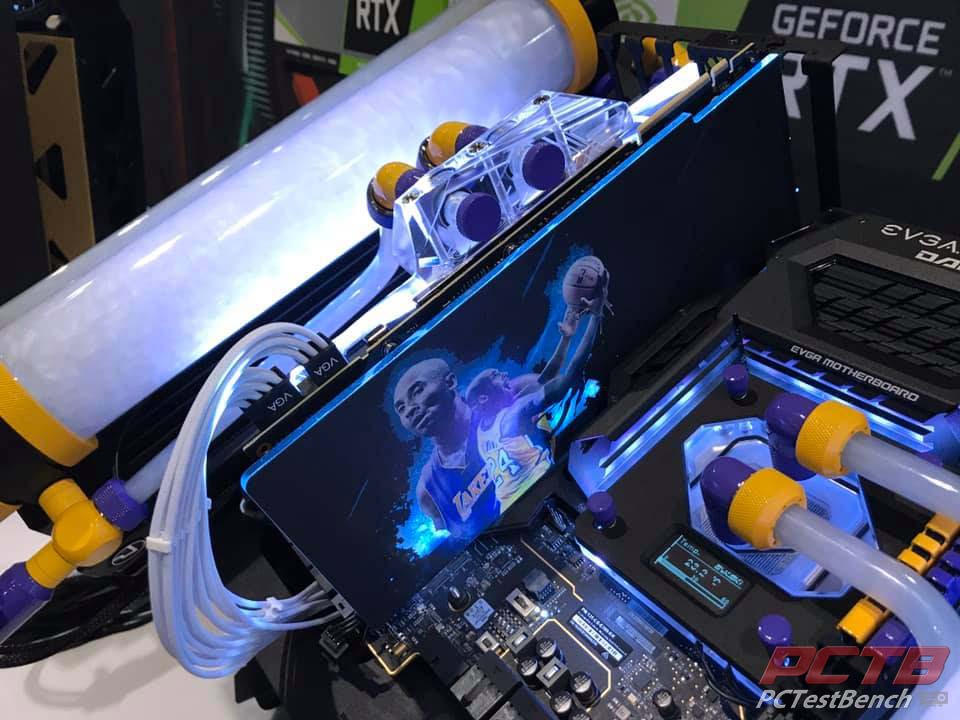 Going on five years ago now, I wrote my first review. After only a few articles were published, I realized that a test-bench was a must for this line of work.  Luckily enough, my boss at the time had a prototype for the original Praxis Wetbench from Primochill sitting in a box in his house. Little did I know at the time that I wouldn't be getting just a test bench, but a product that would change how I built computers forever.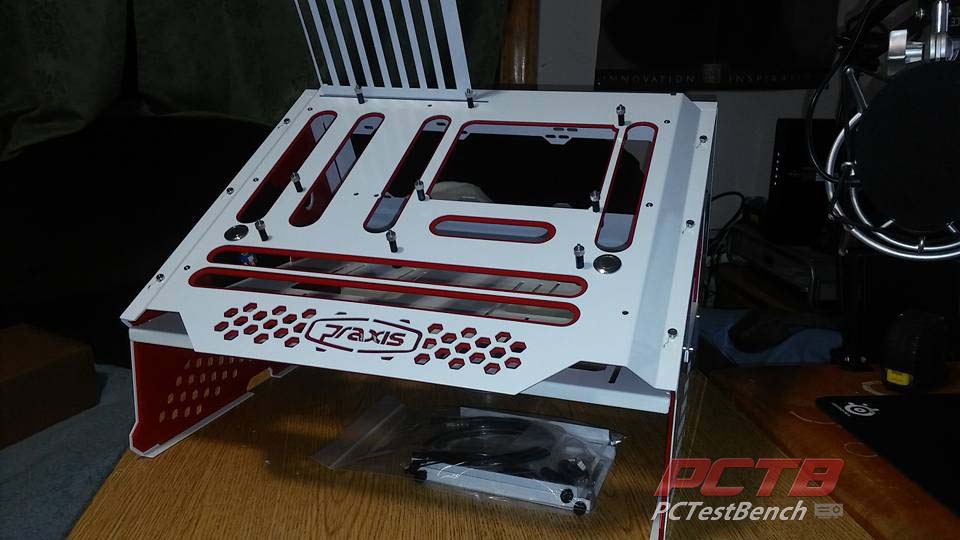 It was sometime in early 2016 that the Primochill Praxis Wetbench first arrived at my door. Above an image of the original Praxis Wetbench Prototype that has lived on my desk for over 4 years. My first test system consisted of an i7-4790k, an EVGA GTX 980 SC and 32 GB of Corsair Vengeance DDR3 1866 MHz. The cooler has actually been the same cooler on my test-bench since day one, the Swiftech H320 X2 Prestige, with a few modifications. Below are a couple iterations my Praxis Wetbench has gone through over the years.
If there was one complaint I have about the original Praxis Wetbench, it would be that it isn't very AIO friendly. This is why I went with the Swiftech H320 X2 Prestige. It was the only AIO, at the time, that used actual G ¼ fittings and allowed me to swap out the tubing. So, I used some of Primochill's soft tubing, slapped an EK Supremacy Evo on the cooler and its been there since.
Due to my love for the Praxis, I've developed somewhat of an obsession with test benches. All my systems are now installed on some form of test-bench or open-air system. The closest thing to a case I use anymore is a Thermaltake Core P5, without the glass of course. I've been in search of the perfect test-bench. Something that can replace the Praxis as my main bench for both PCTestbench, as well as Modders-Inc. Well, on February 27th, 2020, my search ended when I walked up to the PNY booth at Pax East and got my first glimpse at the new Primochill Praxis WetbenchSX.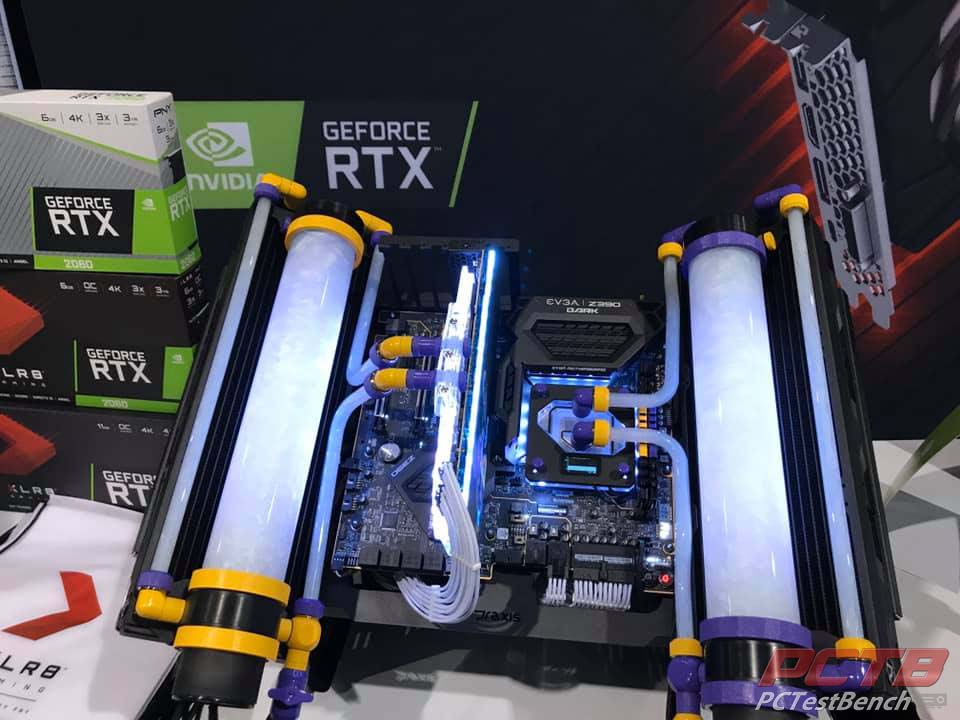 To say I was excited is an understatement. I've heard rumors of a new Praxis for going on a year now and have been bugging the PR department at Primochill for just as long. I spotted the new Praxis WetbenchSX from about 100 or so feet away. I knew exactly what I was looking at and ran to the PNY booth where Primochill had the WetbenchSX set up on display. It nearly brought a tear to my eye.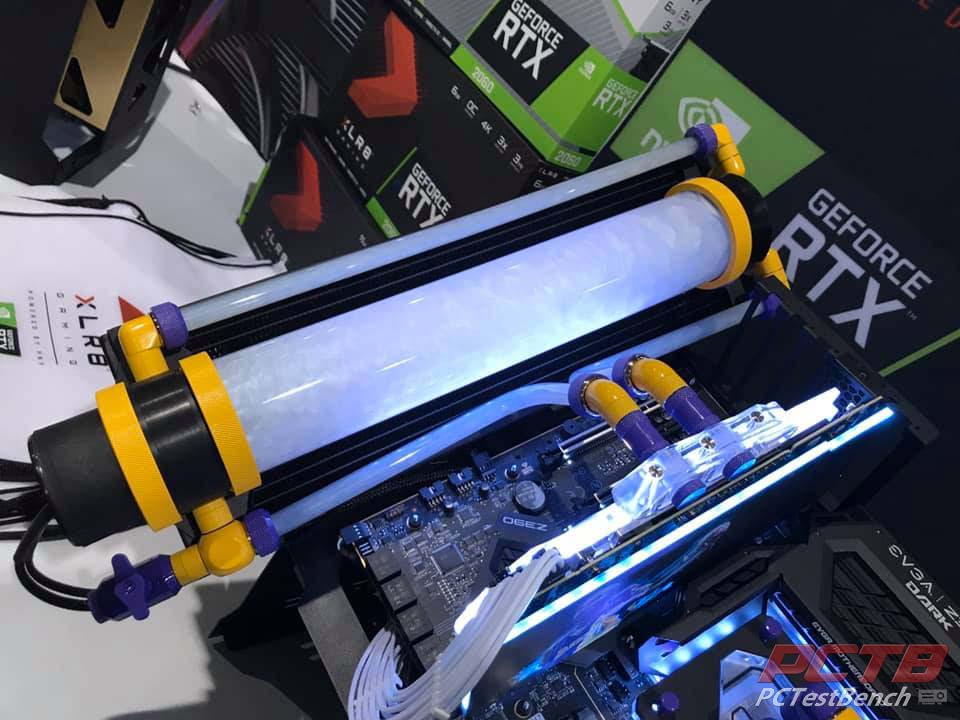 More than one configuration:
I was aware there was a new Praxis in development for some time now but was completely unaware of the fact there would be more than one model of the new Praxis. I have always been a fan of the slanted design of the original Wetbench. From a reviewer's point of view, the slanted model does come with its drawbacks. There are both the base models, as well as the Pro models. The base model is your standard test-bench in both the slanted and flat design.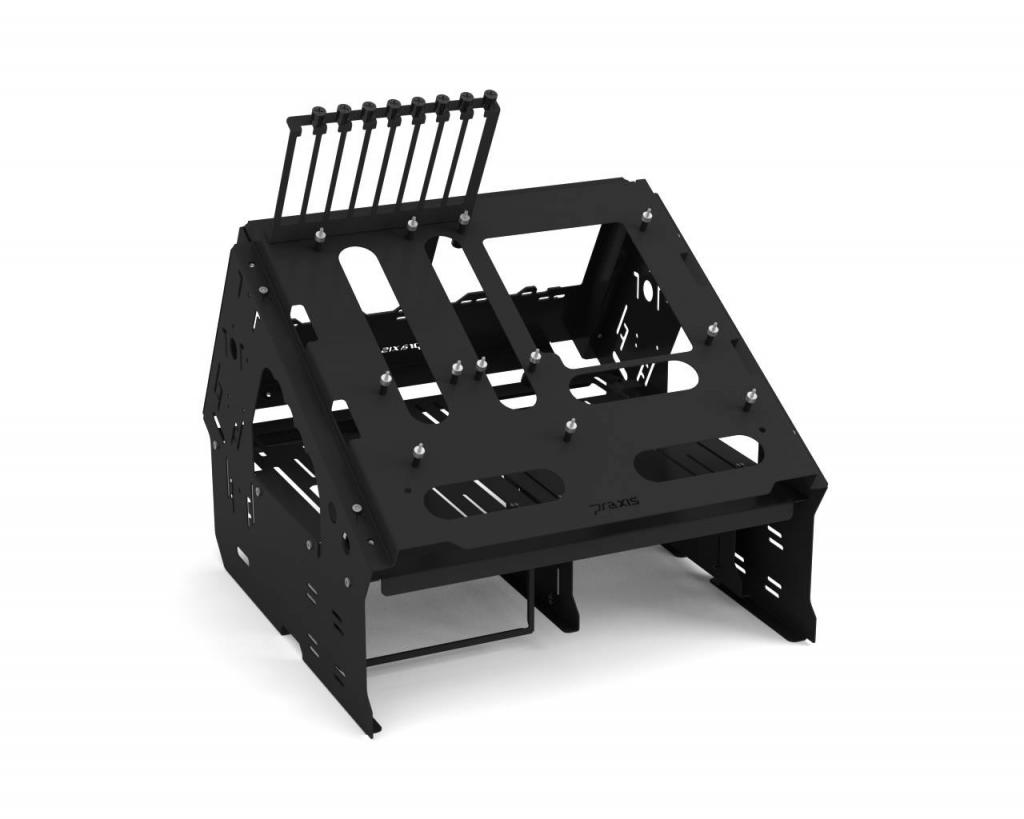 The Pro model adds an additional side AIO/radiator bracket, a bottom radiator bracket as well as the fan arm. In addition, Primochill is offering an array of accessories that allow you to fully upgrade your new Praxis WetbenchSX. Essentially every bit and piece of the Praxis WetbenchSX can be purchased separately. So, you want to purchase the base model to save some money, but then realize you really need a fan arm, you can buy it. Or if you purchase the Pro model, but decide after, you need more options, you can add on it it.
You may not think so, but the motherboard being at an angle can get annoying when say swapping hardware as often as we do. Especially in regards to installing motherboards. Now from the point of view of a builder, it's a great way to display your hardware. In fact, several of the vendors we meet with at events often have a system set up on a Praxis Wetbench. With the new WetbenchSX, Primochill not still offers the same slanted Wetbench design we all know and love.  However, that's not all.  Primochill also offers an all-new flat design, reminiscent to that of a dimastech testbench. The customizability of the new Praxis WetbenchSX is insane.
As the images above show, there are many similarities between the original Wetbench and the WetbenchSX. However, there are also some vast differences between the original Wetbench and the WetbenchSX. For starters, the original Praxis Wetbench could hold up to a 360mm radiator, without modifications of course. The Praxis WetbenchSX can hold up to four 480mm radiators. Now many people I've told this have the same reaction, why or that's overkill. Now maybe from a PC builders' point of view, four 480mm radiators on what is technically a test-bench may sound like a bit much. However, as someone who tests hardware for a living, I see options.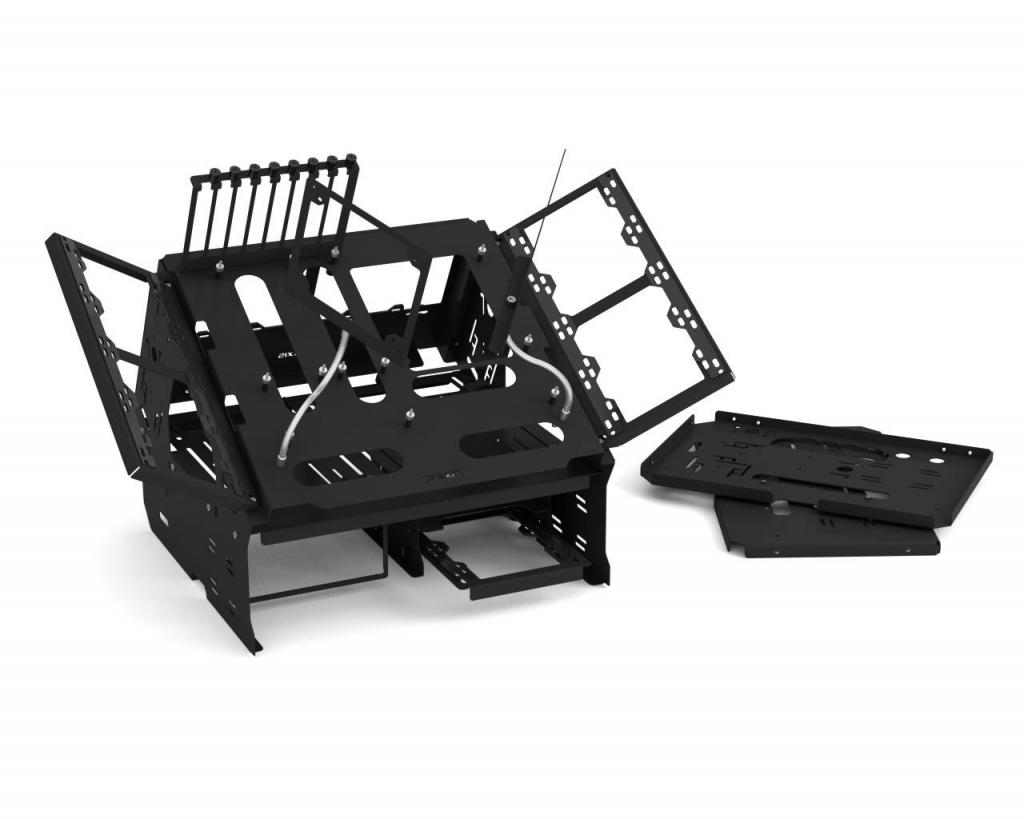 For testing purposes, one of the biggest drawbacks to the original Praxis Wetbench was in regard to reviewing AIO coolers. The Praxis Wetbench was more designed with custom water-cooling in mind. So, to use the Wetbench in the way it was designed, the average AIO cooler wouldn't work as the tubing was never long enough. There were a few exceptions such as the EK Predator and the H Series from Swiftech. However, this was due to the ability to change out the tubing as both use standard tubing and G ¼ fittings. This is no longer a concern due to the design and array of options Primochill now offers with the all-new Praxis WetbenchSX.
The slanted version Praxis WetbenchSX looks much like the original Wetbench. The WetbenchSX still has the same rear-mounted radiator bracket on the rear of the bench. This rear bracket can hold up to a 480 mm or even a 560 mm radiator externally and a 280 mm bracket internally. However, it has the option for two radiator trays that attach to either side of the motherboard tray. Each tray can hold up to a 480-millimeter radiator. This takes care of the problem of not being able to mount an AIO cooler to the back radiator bracket. At least in the way it was intended to be mounted. The Praxis WetbenchSX has been tested with AIO coolers with up 13 inches. The WetbenchSX comes with anti-vibration pads for each radiator bracket, as well as the power supply.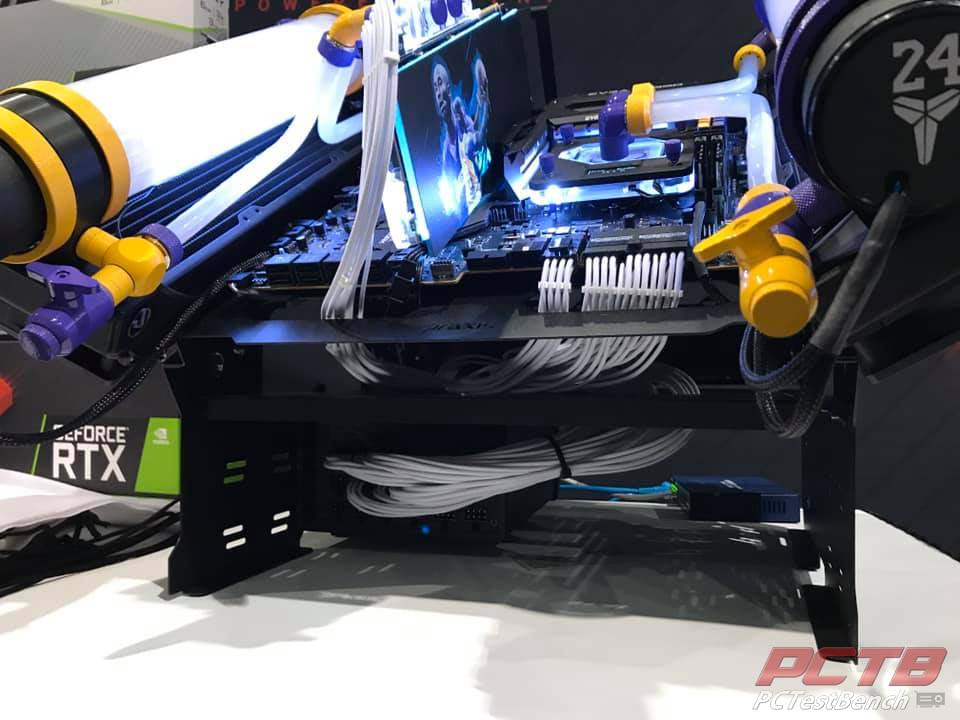 In addition, there is also mounting for up to a 480-millimeter radiator on the bottom of the test bench next to the power supply. There are also two spots on the motherboard tray for mounting gooseneck fan brackets. I haven't confirmed this, but from the images, it looks like the gooseneck can hold a 120 mm or 140 mm fan.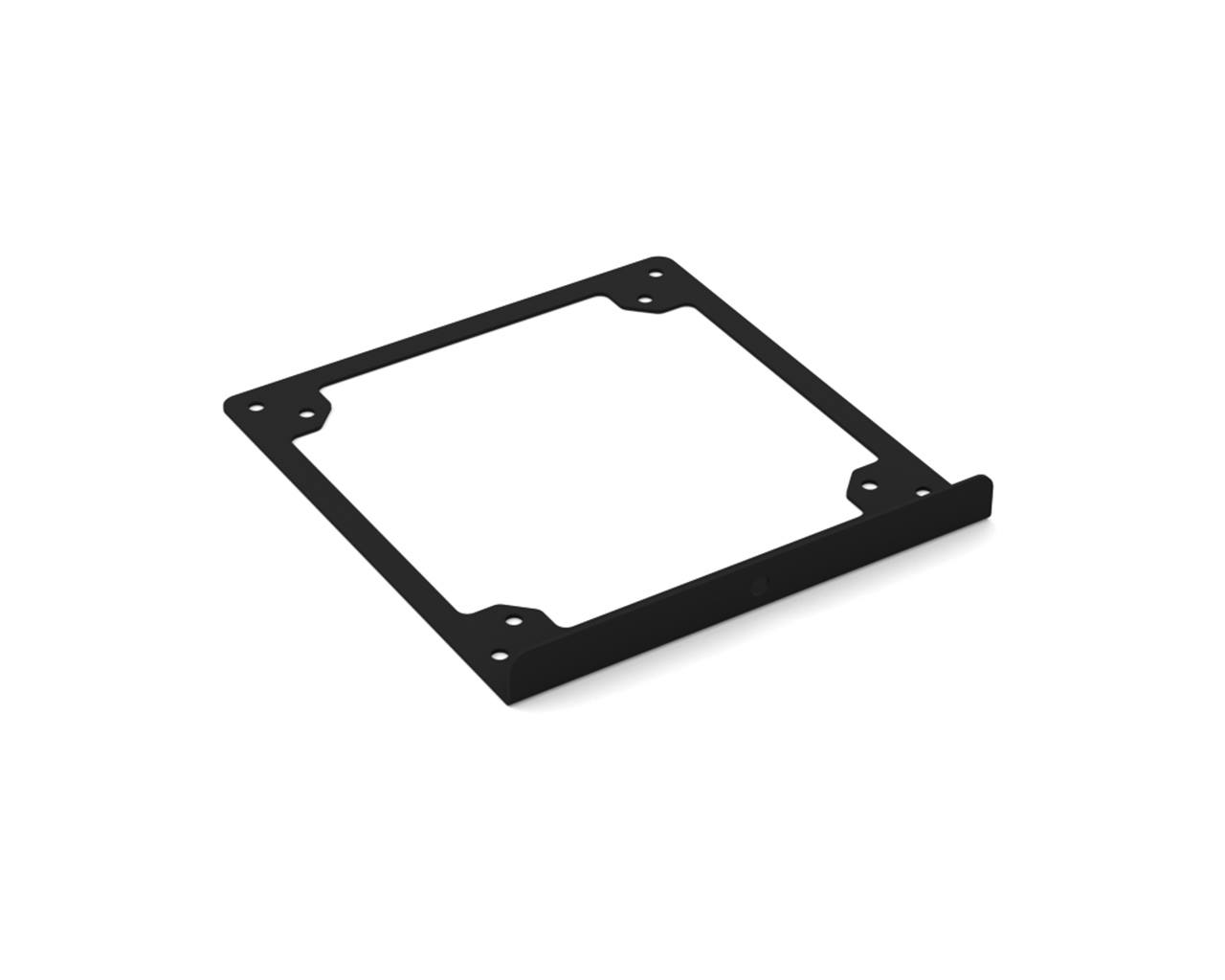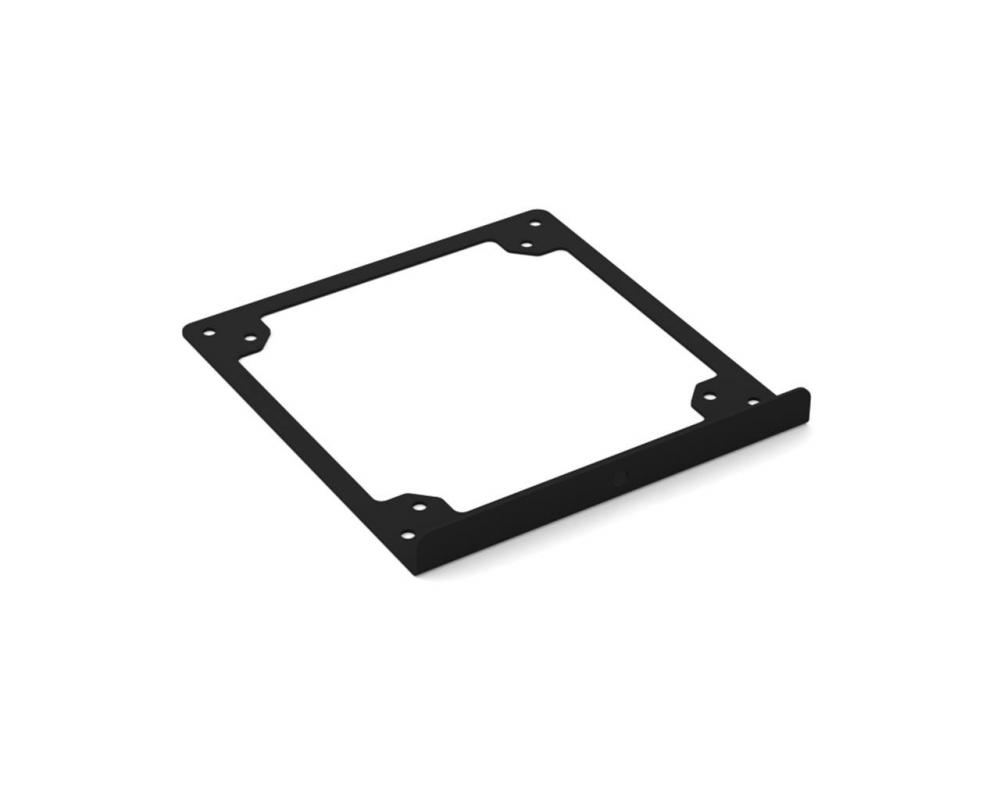 There are plenty of options for storage as well. The Praxis WetbenchSX has mounting for up to four hard drives or SSDs. You can also install not one, but two 5.25" drives as well. The motherboard tray has mounting options for MITX, mATX, ATX and eATX motherboards. For a power supply, the WetbenchSX can hold power supplies up to 300 mm in length. On either model, there are mounting options for pump and reservoir combos for just about any company you can think of. Thermaltake and EK just to name a couple. The sides also have holes for G ¼ bulkhead fittings, if you decide to mount a radiator on the bottom of the test-bench.
While at Pax East 2020, we actually came across the all-new Praxis WetbenchSX in the wild. At the PNY booth, Primochill had a system on display running an i9 9900k on an EVGA Z390 Dark. The graphics cards is a PNY RTX 2080 ti XLR8 Overclocked. The GPU has a custom-designed Kobe Bryant themed back-plate made by V1 Tech and it looked amazing.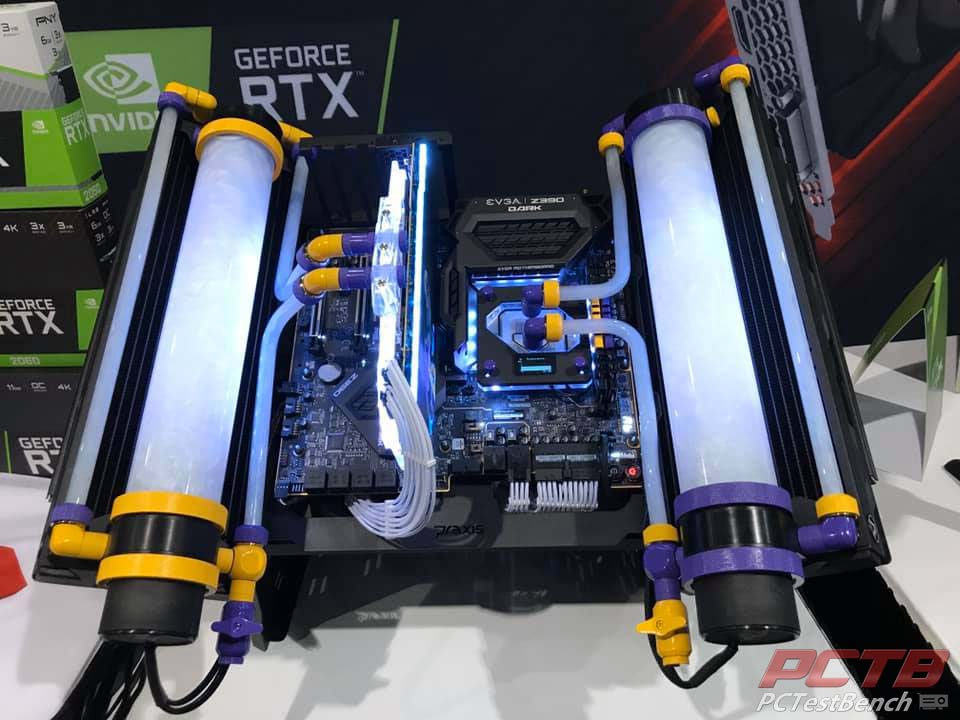 The system is running two PNY CS3030 2 TB NVMe M.2 SSDs. For memory, the system is running a 32 GB kit of PNY XLR8 DDR4. The system is powered by a 1200 watt EVGA Supernova P2 80+ Platinum power supply. As for water cooling, the CPU and GPU blocks are both made by Bykski. Bykski, a little known company that has been killing it with their water blocks as of late. The system is using all Primochill fittings. Two Primochill 360 ML CTR2 reservoirs are equipped with D5 pumps. Two 420 mm Eximo radiators from Primochill round out the cooling. And of course, the slanted version of the new Primochill Praxis WetbenchSX.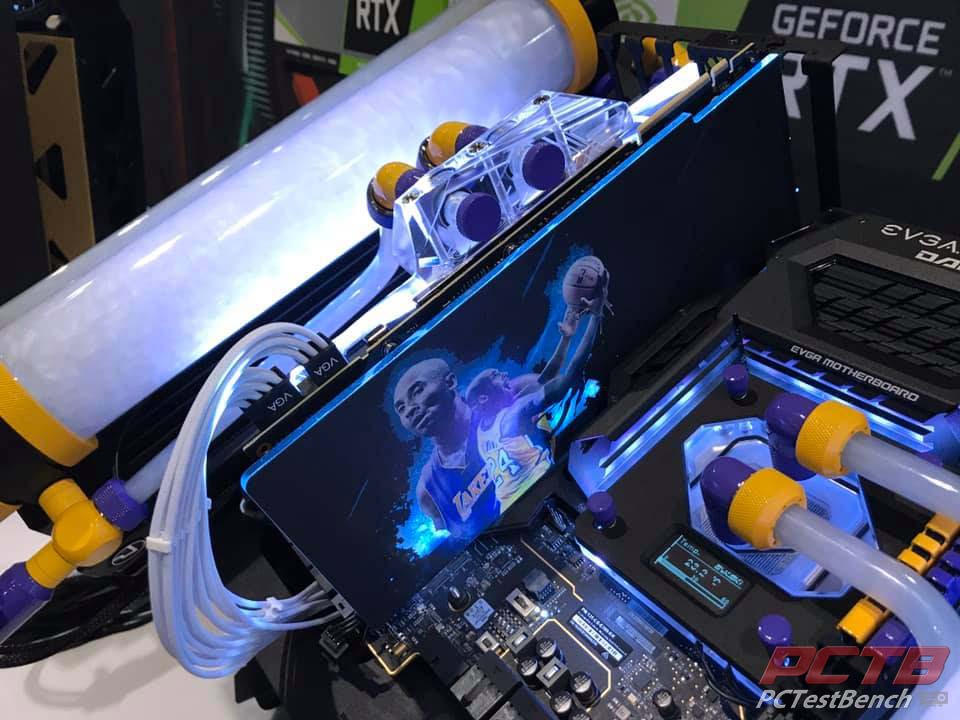 It's very rare that any product actually lives up to the rumors and hype that surround it pre-release. Product delays, for whatever reason, don't help. However, the all-new Praxis WetbenchSX not only lived up to my expectations but far surpassed anything I could have fathomed. I had a vision in my mind as to what the new Wetbench would look like. To be honest, the slanted design is similar to what I had expected. But the flat design is what blew my mind.
I love that Primochill is now offering more than one design to their Wetbench. As much as I like the slanted design, from a workflow point of view, the flat design makes more sense. The only problem I have now is where to put not one more test-bench, but two. At the time of writing this article, we are still unaware of the release date or pricing on the Praxis WetbenchSX. We will share that information as soon as it's available to us.