Tech News
TEAMGROUP's T-FORCE TREASURE TOUCH External RGB SSD and T-CREATE Memory Both Bring Home Red Dot Design Award 2021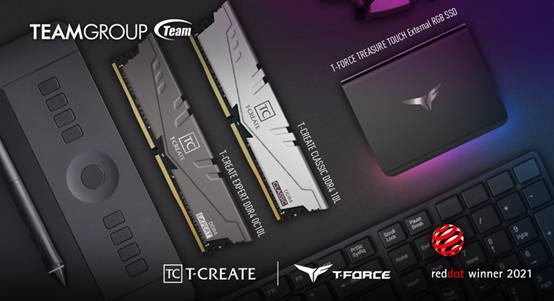 Products by leading memory provider TEAMGROUP have been recognized with well-known international design awards. At the start of this spring, TEAMGROUP's gaming sub-brand T-FORCE won Germany's Red Dot Design Award 2021 for its T-FORCE TREASURE TOUCH External RGB SSD, and its recently launched creator sub-brand T-CREATE also received the Red Dot Design Award 2021 for its T-CREATE Memory series, proving once again TEAMGROUP's strengths in design creativity and R&D.
Along with Germany's IF Design Award, Japan's Good Design Award, and the U.S.' IDEA Award, the Red Dot Award is one of the four renowned design awards. Known as the Oscar of product design, the Red Dot Award is highly regarded in the international design community. The number of entries for the Red Dot Design Award 2021 was higher than in previous years, totaling 7,800 products. The TREASURE TOUCH External RGB SSD and the T-CREATE DDR4 Series Memory represent the gaming and creator sub-brands of TEAMGROUP, respectively, and have both been honored with one of the most prestigious international awards for design.
The TREASURE TOUCH External RGB SSD has a specially treated brushed metal finish that reduces fingerprints. A touch of the finger can turn it on and off and change its RGB effects, allowing gamers to adjust illumination to match their gaming platforms, such as a PlayStation or Xbox console, or their own unique style. It features a USB 3.2 Gen 2 Type-C port, making it even more convenient to use, and it currently comes with a maximum capacity of 1 TB. It is the perfect choice for those looking for an external RGB SSD expansion.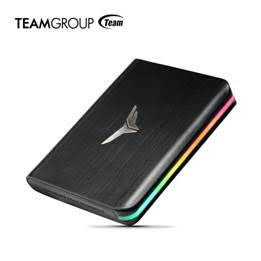 The creator-focused T-CREATE DDR4 Memory modules have beautiful classic designs with key features such as high stability and performance and large capacities. The CLASSIC and EXPERT series are currently available, and a new MASTER series will be launched soon, providing a full range of upgrades to meet creators' needs. The great specs and high speeds of T-CREATE DDR4 Memory allow users to have a smooth and enjoyable experience during their creation process. TEAMGROUP is committed to releasing even more outstanding products in the future and will continue to shine in the world of design.
Learn More
T-FORCE TREASURE TOUCH External RGB SSD
https://www.teamgroupinc.com/en/product/treasure-touch-external-rgb-ssd
CLASSIC DDR4 10L DESKTOP MEMORY
https://www.teamgroupinc.com/en/product/class-10l
EXPERT DDR4 OC10L DESKTOP MEMORY
https://www.teamgroupinc.com/en/product/expert-ddr4-oc10l
About TEAMGROUP
As a leading provider of memory storage products and mobile applications to the consumer market, Team Group Inc. is committed to providing the best storage, multimedia and data sharing solutions. All TEAMGROUP's memory module products come with a lifetime warranty, repair and replacement services. Team Group Inc., also listed company at stock exchange market in January, 2019. In 2016, TEAMGROUP established T-FORCE gaming series which includes all the gaming memory module. In 2020, TEAMGROUP established T-CREATE brand for creative users. For more information, please visit the TEAMGROUP website at www.teamgroupinc.com or follow our social media including Facebook: www.facebook.com/teamgroupinc /Twitter: https://twitter.com/teamgroupinc Instagram: https://www.instagram.com/teamgroupinc