Tech News
Patriot launches Supersonic Rage Pro USB 3.2 Gen.1 Flash Drive
USB 3.2 Gen.1 with high IOPS and fast read and write, making it the best solution for boot drives.
FREMONT, CALIFORNIA, March 18th, 2021 – PATRIOT™, a global leader in performance memory, SSDs, gaming peripherals, and flash storage solutions, is proud to announce the market launch of the new Supersonic RAGE series, Supersonic Rage PRO USB 3.2 Gen. 1 flash drive today.
This USB 3.2 Gen.1 flash drive supports UASP mode to ensure the fastest data Read and Write speeds. The RAGE PRO series USB drive comes with an LED activity indicator and features a high-quality aluminum-coated housing for extra protection and better thermal performance. The USB drive is available in 128GB, 256GB, and 512GB. It operates completely driver-free on Windows 10/8/7/Vista/XP/2000, Linux, AndroidOS, ChromeOS, and Mac OSX and later. The Supersonic Rage Pro USB 3.2 Gen.1 flash drive is the ultimate solution for consumers who demand massive multi-platform data storage with excellent reliability.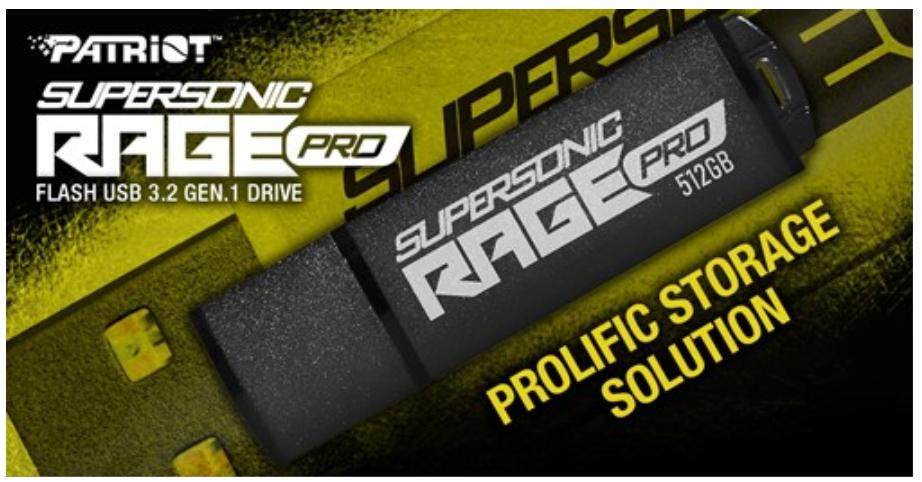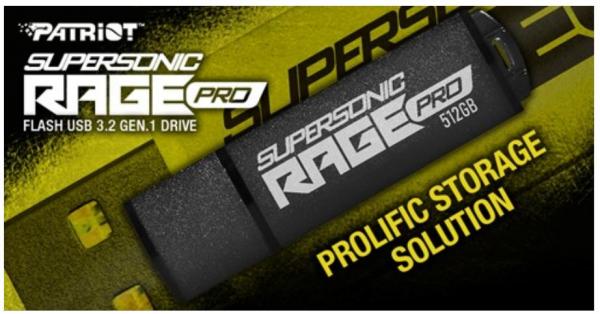 "Improving user experience is always a top priority when we start to design new products. Every detail is inspected as it could be the one that pushes this product beyond the competition," said Roger Shinmoto, Vice President of Product Development. "From the inside out, the Supersonic RAGE PRO USB 3.2 Gen.1 flash drive is a next-gen portable USB storage solution for all users while offering performance benefits to our more demanding customers who need it most," he added.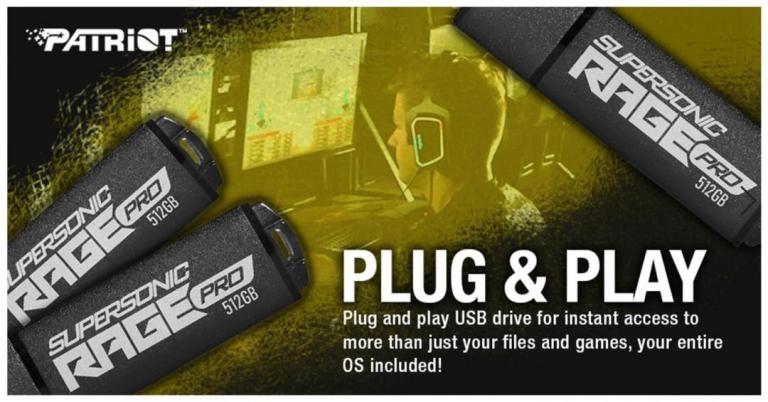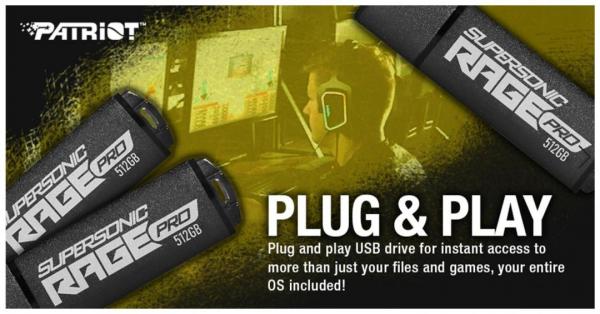 The Supersonic RAGE PRO series supports UASP mode (USB Attached SCSI Protocol). This mode allows for faster Read/Write speeds from removable storage devices. Compared to traditional USB 3.0 BOT, the UASP mode will boost overall performance with 70% faster read and 40% faster Write speeds at its peak. The Supersonic RAGE PRO delivers 420MB/s in Read speed and up to 8,000 4K Random IOPS.
The Rage Pro is also optimized as a boot drive for Windows OS and other operating systems, while the extra IOPS and random 4K read and write speed provides excellent reliability and faster boot times. The Rage Pro can also be an alternative solution when users need an independent rescue drive for laptops and desktops. The LED indicators allow users to visually confirm when data is being processed and is entirely plug-and-play compatible. The Supersonic RAGE PRO USB 3.2 Gen.1 flash drive will be launched in major US retailers and available in 3 capacities: 128GB, 256GB, and 512GB, all backed by Patriot 5-year Warranty.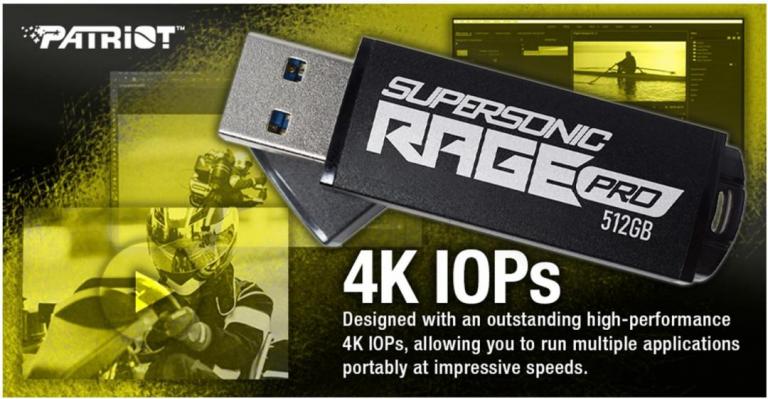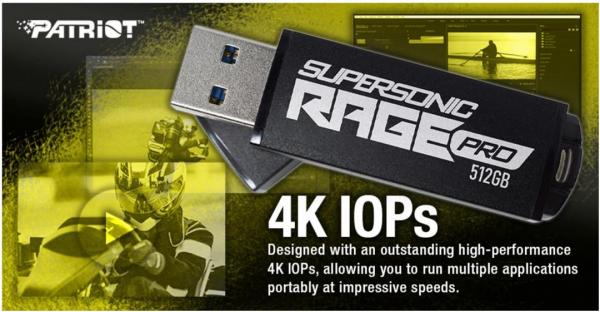 FEATURES:
USB 3.2 Gen. 1 compliant (backward compatible with USB 2.0)
Up to 420MB/s Read
Up to 8,000 4K Random IOPs
Aluminum coated housing gives the better thermal and solid body
Supported UASP mode provide fastest response read and write
LED light indicator
Plug and Play, driver free
Compatible withWindows 7/8/10, Linux 2.4 andLater, Mac OSX and later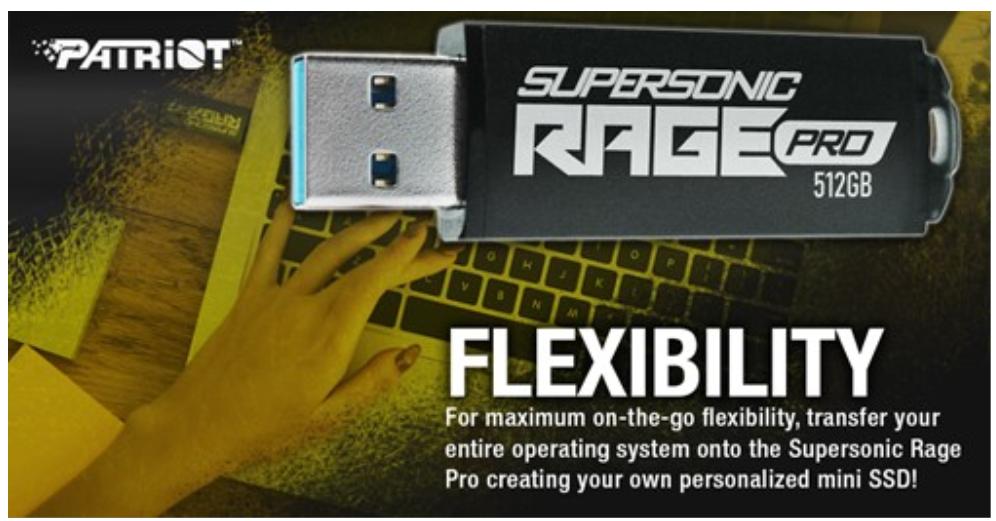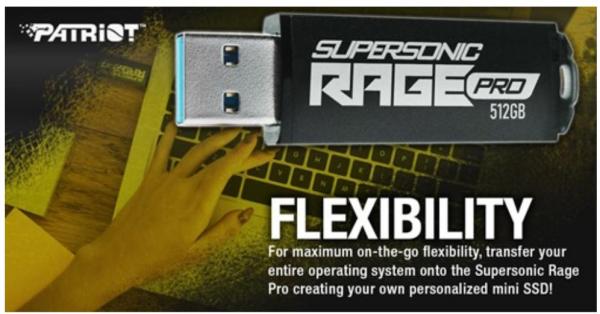 About Patriot™ 
Patriot™ is a leading manufacturer of high performance, enthusiast memory modules, SSDs, flash storage, gaming peripherals, and mobile accessories. Founded in 1985 and headquartered in Fremont, CA, USA, Patriot is committed to technology innovation, customer satisfaction, and providing the best price for performance on the market. Patriot products have become world renown for their extreme performance, reliability, and innovation. Patriot sells its products through original equipment manufacturers, retailers, e-tailers, and distributors throughout the world, with operations in North America, South America, Asia, and Europe. All company and/or product names may be trade names, trademarks and/or registered trademarks of the respective owners with which they are associated. Features, pricing, availability, and specifications are subject to change without notice.
Follow us
Facebook: https://www.facebook.com/vipergamingpatriot
Twitter: https://twitter.com/patriot_viper
Instagram: https://www.instagram.com/patriot_viper/
YouTube: https://www.youtube.com/patriotviper
More Patriot Products we have reviewed